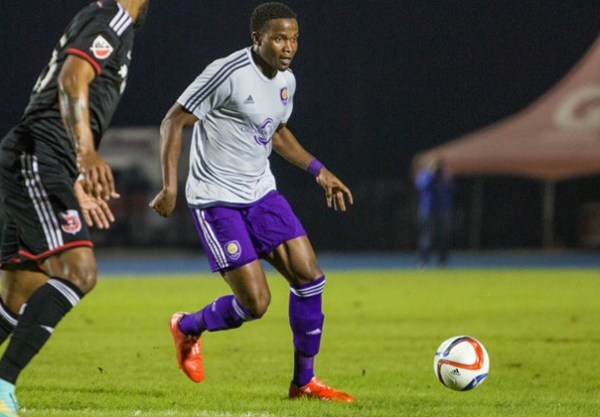 By MIKE GRAMAJO
The road back to Major League Soccer has been something Danny Mwanga calls a blessing. That blessing has come with a second opportunity to start brand new in a new place with new fans and a new team.
But that second opportunity didn't come as a walk in the park for the former No. 1 pick in the 2010 MLS Draft. After an unsuccessful spell with the Colorado Rapids, the forward was loaned to the New York Cosmos of the NASL in August 2014.
It was his time with the historic club where he felt rejuvenated after years of disappointment. The second window of opportunity came two months ago, when he was selected as the 15th overall pick in the expansion draft by Orlando City SC. With the hope of returning to MLS becoming a reality, Mwanga is relishing his second chance.
"It was a good experience especially for me to be able to learn from Giovanni (Savarese) who has played in this league and has tons of experience," Mwanga recently told SBI. "It's been a tough couple months during and before that time, but being in Orlando puts me in the right position to reach my top form again. For me to be with Orlando City is a privilege and an opportunity to continue to work hard to get to my best form I can possibly be."
Orlando City head coach Adrian Heath believes Mwanga still has the talent to be an impact player, even with the struggles of recent seasons.
"Danny has had a tough couple years, but you look at his record before that, he was close to being Rookie of the Year," said Heath. "There's a lot of talent in him, he needs to get some confidence back in his game and if he does, we're hopeful we can get him back to what he was."
After a disappointing stint with the Rapids – where he failed find the net during his one-year stay – Mwanga never lost hope of one day succeeding in MLS. That hope which carried on to the NASL last year only reinvigorated his commitment to fulfill the lofty expectations he entered MLS with five years ago.
"At this point in my career, I can start in a clean slate," Mwanga added. "It's tough coming to a new place and leaving family behind is tough, but I think football is the main reason why I'm here today. It's helped me grow as a player and a person.
"Everything that has happened in the past has given me motivation to work hard. For me, you have to take it day-by-day while at the same time learning how coach wants us to play. The team has a goal to be successful in the league, and I share that same goal as well."
Mwanga will face stiff competition for playing time with Orlando City, but is also relishing the opportunity to play in an attack that features Brazilian star Kaka.
"It gets me motivated, I know a player of that caliber you have to be on top of your game," Mwanga says about playing alongside Kaka. "It pushes you to be better everyday you show up. You want to come in and player your A-game. It's not about being nervous but motivated to play better around him."
Mwanga has settled in well with Orlando City, scoring in a preseason friendly against FC Dallas that provided a glimpse of what he can do. The real test will come March 8 when Orlando City makes its MLS debut against New York City FC, his first chance to snap an MLS goal drought that stretches back to Sept. 19, 2012 with the Union.
Mwanga believes he has grown considerably since his days in Philadelphia. Something current Orlando City teammate and former Philly roommate Amobi Okugo also sees.
"It's good to see how we've both grown as players and as men off the field," Okugo told SBI. "Everything happens for a reason and it's a blessing in disguise."