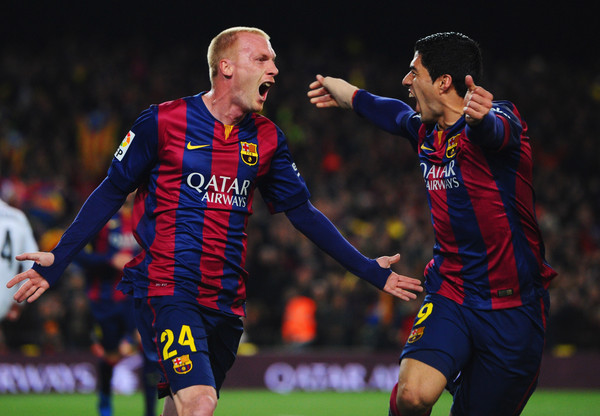 By AYDIN REYHAN
This weekend brought about some exciting and memorable games, with some giving  a better idea of which clubs will finish higher in their respective leagues in order to participate in Europe next season.
In Spain, El Clasico took centerstage with a Barecelona victory, while Sevilla downed Villarreal for the third time in over a week after eliminating them in the Round of 16 of the Europa League by winning 2-0 at the Madrigal.
Manchester United topped Liverpool to headline England's action, while crosstown rivals Manchester City blanked West Brom 3-0 to bounce back from their midweek Champions League Round of 16 elimination at the feet of Barcelona. City still trail by six in second, but the Chelsea has a game in hand.
Bayern Munich suffered a shocking result when they were held scoreless at home by Borussia Moenchengladbach, 2-0. Their 4-3-2-1 did not allow them to move the ball the way they normally do and were exposed twice by the third-placed team in the Bundesliga.
Here are the results from this weekend of Europe's top leagues:
ENGLAND
Liverpool  lost 2-1 at home against Manchester United, thus allowing the Red Devils to open up a five-point lead in fourth place, all but guaranteeing a spot in the Champions League qualification. Steven Gerrard was ejected for stomping on an opponent just seconds after entering the game. Juan Mata completed his brace before Daniel Sturridge scored a consolation-goal for the home side.
Harry Kane scored his first ever hat-trick in Tottenham's 4-3 victory over Leicester City at home. This comes just days before England hosts Lithuania in a Euro 2016 qualifier, which means coach Roy Hodgson clearly has an obvious choice for one of his starters or the only one up top.
Arsenal protected their spot in third with a 2-1 victory at Newcastle United thanks to a double from French international striker Olivier Giroud.
Here are all of the results in the Premier League:
Man City 3-0 West Brom
Aston Villa 0-1 Swansea
Newcastle 1-2 Arsenal
Southampton 2-0 Burnley
Stoke 1-2 Crystal Palace
Tottenham 4-3 Leicester
West Ham 1-0 Sunderland
Liverpool 1-2 Man United
Hull City 2-3 Chelsea
QPR 1-2 Everton
SPAIN
The El Clasico was played in exciting fashion and the home side, Barcelona, defeated Real Madrid by the score of 2-1 thanks to Jeremy Mathieu and Luis Suarez sandwiching Cristiano Ronaldo's first-half slot past Claudio Bravo.
Both sides lined up in a 4-3-3 and passed the ball well. Defense was a good area for both, but losing the ball in the final third or midfield allowed the other to create some close chances.
The problem Real Madrid had was relying on Luka Modric who seemed to have an effect on the rest of his teammates as when he grew tired, they did as well, allowing Lionel Messi and company to run circles around them.
Both sides missed plenty of chances on a night where the keepers shone quietly, but the final score portrays the side that deserved to win winning this big one. Therefore, Barcelona now hold a four-point lead atop La Liga with 68 to Real Madrid's 64.
Valencia stayed in third with a 4-0 win at Elche while Atletico Madrid kept the pressure on them in fourth with a 2-0 victory over Getafe at home.
Here are all of the results in La Liga this weekend:
Elche 0-4 Valencia
Atletico 2-0 Getafe
Rayo 1-0 Malaga
Levante 0-1 Celta Vigo
Athletic Bilbao 2-1 Almeria
Granada 0-0 Eibar
Deportivo 0-0 Espanyol
Villarreal 0-2 Sevilla
Real Sociedad 3-1 Cordoba
Barcelona 2-1 Real Madrid
GERMANY
Bayer Leverkusen opened up a six-point lead in fourth ahead of Schalke by defeating them 1-0 on the road. Karim Bellarabi hit home the winner in the 35th minute, as Leverkusen maintained Schalke's 3-5-2 with their own version of the 4-4-2.
Wolfsburg escaped with a point from Mainz after Luiz Gustavo's 61st-minute equalizer. They were unable to score a winner that would have enabled them to climb two points closer to Bayern Munich, who lost 2-0 at home to Moenchengladbach.
Stuttgart ended a nine-game losing streak by defeating Eintracht Frankfurt 3-1 at home, but they still sit in last with only 23 points.
Here are all of the results from the Bundesliga this weekend:
Hamburger SV 0-1 Hertha Berlin
FC Koln 1-1 Werder Bremen
Freiburg 2-0 Augsburg
Hanover 2-3 Dortmund
Paderborn 0-0 Hoffenheim
Stuttgart 3-1 Eintracht Frankfurt
Schalke 0-1 Bayer Leverkusen
Mainz 1-1 Wolfsburg
Bayern Munich 0-2 Borussia Moenchengladbach
ITALY
Juventus maintained their 14-point lead atop the Serie A with a 1-0 victory over Genoa in Turin after Carlos Tevez' first-half winner, although the Argentine did manage miss an opportunity from the spot in the 62nd minute.
Roma are still in second after managing to win 1-0 at Cesena after Daniele De Rossi scored in the first half to earn all three points.
The Blue side from the capital of Italy, Lazio, were 2-0 victors against Hellas Verona to stay in third, just one point behind Roma. For this game, the switch from a 4-3-3 to a 4-2-3-1 as they dominated every stat line that matters.
Here are all of the Serie A results:
Chievo 1-0 Palermo
AC Milan 3-1 Cagliari
Empoli 3-1 Sassuolo
Juventus 1-0 Genoa
Cesena 0-1 Roma
Lazio 2-0 Hellas Verona
Parma 0-2 Torino
Napoli 1-1 Atalanta
Sampdoria 1-0 Inter
Udinese 2-2 Fiorentina
FRANCE
Zlatan Ibrahimovic took the game-ball home after hitting all three goals in a 3-1 victory against Lorient at home. PSG now top Ligue 1 with 59 points after Lyon were forced to stay at 58 due to a 2-1 home-loss against Nice.
Marseille ripped Lens 4-0 on the road to jump up to 57 points, just one behind Lyon in second and two behind leaders PSG.
Monaco won 3-1 at Reims and have a game in hand at 53 points.
Here are all of the results form Ligue 1 this weekend:
PSG 3-1 Lorient
Lyon 1-2 Nice
Bastia 0-0 Guingamp
Caen 0-0 Metz
Evian 1-0 Montpellier
Rennes 0-0 Nantes
Toulouse 2-1 Bordeaux
Saint Etienne 2-0 Lille
Reims 1-3 Monaco
Lens 0-4 Marseille