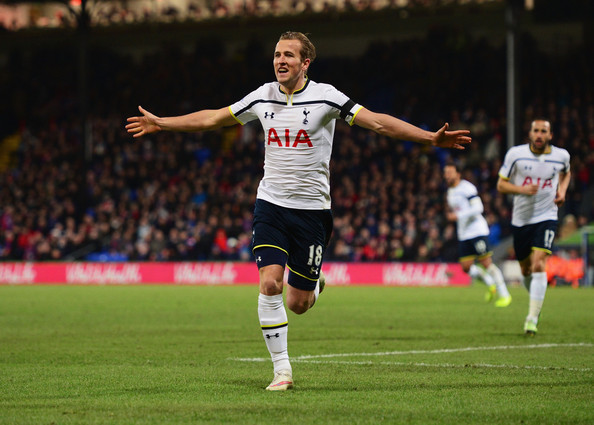 By AYDIN REYHAN
Harry Kane made quite a statement in front of England manager Roy Hodgson in Tottenham's victory over the weekend.
Kane headed home a free kick from Kyle Walker in the first half before rounding the keeper and sliding home the ball in the second, netting a brace as Tottenham picked up a 2-1 victory over Queens Park Rangers.
Real Madrid were undone by a beauty of a header from 34-year-old veteran Aritz Aduriz in the first half as the European champions were downed 1-0 on the road against Athletic Bilbao. Cristiano Ronaldo was unable to get a shot on frame on a night where he was defended to perfection.
Here is a closer look at Europe's top-five leagues' action from the weekend:
ENGLAND
Liverpool was kept quiet at home against Blackburn in their FA Cup quarterfinal match which ended in a scoreless draw at Anfield. Both clubs created chances, but luck and the keepers had their way to keep both parties quiet up front.
Bradford City and Reading also ended their meeting in a scoreless draw which means a replay will have to take place.
Aston Villa went two for two against West Brom in a week as they won again on home ground, this time 2-0 in their FA Cup quarterfinal meeting through strikes from Fabian Delph and Scott Sinclair.
Here are the full results from the Premier League and the FA Cup this weekend:
Premier League:
QPR 1-2 Tottenham
FA Cup
Liverpool 0-0 Blackburn
Bradford City 0-0 Reading
Aston Villa 2-0 West Bromwich Albion
SPAIN
Barcelona are back on top in La Liga after the club demolished Rayo Vallecano by a score of 6-1 without the services of Neymar, who was suspended for the match.
Luis Suarez netted a double while Lionel Messi made even more history by becoming the player with the most hat tricks in Spanish club soccer. He also equalled Cristiano Ronaldo's tally of 30 goals in league play this season.
Atletico Madrid traded goals with Valencia with Koke scoring 12 minutes from the end of the first half to give his side the lead, but Shkodran Mustafi did the same in the second half to settle matters.
Oriol Riero hit a brace for Deportivo La Coruna in a 4-3 loss at home against Sevilla whose Vitolo hit a double of his own. The home side created more chances, but is was simply not going to be their day.
Here are all of the results from La Liga this weekend:
Levante 2-1 Eibar
Deportivo La Coruna 3-4 Sevilla
Athletic Bilbao 1-0 Real Madrid
Elche 1-0 Almeria
Granada 1-0 Malaga
Barcelona 6-1 Rayo Vallecano
Real Sociedad 1-0 Espanyol
Villarreal 4-1 Celta Vigo
Atletico Madrid 1-1 Sevilla
GERMANY
Bayern Munich opened up an 11-point lead atop the Bundesliga after their 3-1 road victory against Hannover 96. Thomas Muller hit a brace including one from the spot after Xabi Alonso opened the champions' scoring.
Hiroshi Kiyotake opened the scoring in the match as his home side took the lead, but the visitors controlled the majority of the game and the scoreline simply proves so.
Wolfsburg were unable to continue their hot-streak of late as the second-placed side dropped all three points in their 1-0 loss at Augsburg thanks to a hit from Dominik Kohr.
Bayer Leverkusen netted all three of their goals in the final 17 minutes away at Paderborn to win 3-0. Kyriakos Papadopoulos score his first goal of the season before South Korean international Heung-Min Son hit a brace to finish off the hosts.
Here are the results from the German Bundesliga this weekend:
Stuttgart 0-0 Hertha Berlin
Augsburg 1-0 Wolfsburg
Freiburg 0-1 Werder Bremen
Hamburger SV 0-0 Borussia Dortmund
Hannover 96 1-3 Bayern Munich
Schalke 3-1 Hoffenheim
Mainz 2-2 Borussia Moenchengladbach
FC Koln 4-2 Eintracht Frankfurt
Paderborn 0-3 Bayer Leverkusen
ITALY
Samuel Eto'o scored his first goal for Sampdoria in a 2-0 victory over Cagliari on home soil. The Former Cameroonian international captain and striker chested the ball down inside the right of the 18, let it bounce after faking a volley then hammered home inside the near post.
Marek Hamsik and Gonzalo Higuain put Napoli 2-0 up on Inter Milan, but late a goal from Rodrigo Palacio and a late Mauro Icardi penalty undid their work to share the spoils.
Here are the results so far form Serie A this weekend:
Sampdoria 2-0 Cagliari
AC Milan 2-2 Hellas Verona
Cesena 0-0 Palermo
Chievo 0-0 Roma
Empoli 1-1 Genoa
Parma 0-0 Atalanta
Udinese 3-2 Torino
Napoli 2-2 Inter Milan
Lazio-Fiorentina (Monday)
Juventus-Sassuolo (Monday)
FRANCE
Toulouse were outplayed at home by Marseille to kick things off in Ligue 1 on Friday as the visitors smashed the net six times in a 6-1 victory. Four of those six goals were scored in the first half.
Michy Batshuayi hit a brace in the first half in impressive fashion before Andre Ayew and André-Pierre Gignac completed the scoring prior to the end of the game.
Paris Saint-Germain defeated Lens, 4-1, courtesy of Zlatan Ibrahimovic and Javier Pastore who both scored and assisted a goal on a night where teamwork played a key role in earning all three points.
Lyon still top the Ligue 1 standings after their 5-1 demolition of Montepellier on the road. Alexandre Lacazette and Nabil Fekir each hit the back of the net twice with Corentin tolisso getting in on the action for the other goal. Lucas Barrios opened the scoring for the hosts but ended up missing a spot kick later on.
Here is what happened in Ligue 1 this weekend:
Toulouse 1-6 Marseille
PSG 4-1 Lens
Bastia 2-1 Nice
Caen 1-2 Bordeaux
Evian 1-3 Monaco
Reims 3-1 Nantes
Saint Etienne 2-0 Lorient
Guingamp 0-1 Lille
Montpellier 1-5 Lyon