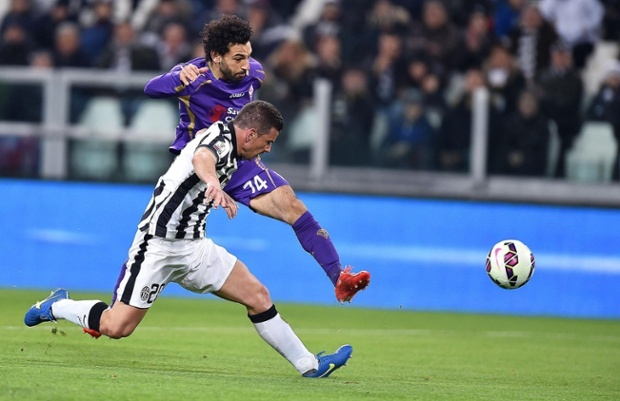 By ADAM TROXTELL
Things just keep getting better for Mohamed Salah in Italy.
The Egyptian scored twice for Fiorentina to produce a 2-1 win against Juventus in the first leg of their Coppa Italia semifinal. Salah's goals either side of halftime canceled out a Fernando Llorente headed goal that equalized for the Bianconeri.
His move to the Viola was the less high profile move in a day that saw Juan Cuadrado go the other way to Chelsea. However, Salah's move is currently producing higher dividends.
He's scored six goals in seven games for Fiorentina, and he opened the scoring in the 11th minute against Juventus with a finish from close range. Just 13 minutes later, the Old Lady responded through Llorente's header that ricocheted off the bottom of the far post and into the net.
In similar fashion to the first goal, Salah once again lanced through the Juventus defense to apply the 56th minute winner. Juve will have about a month to find a way to stop Salah in the second leg that takes place April 7.
Here are more news and notes for your Thursday evening:
GUARDIOLA WARNS RIBERY OVER ACTIONS
Pep Guardiola wants Franck Ribery to cool it.
The Bayern Munich manager warned his French winger to control his temper in the future after Ribery's actions in Wednesday's DFB Pokal match.
Bayern beat Eintracht Braunschweig 2-0, but Ribery was involved in an incident with defender Benjamin Kessel in which he appears to kick out in retaliation.
Ribery later said he was tackled dangerously by the Braunschweig defender, but Guardiola said he'll have to be careful in the future, according to German outlet Sports Bild.
"It is incredibly dangerous when you end up playing with 10 against 11 in the Champions League," Guardiola told reporters. "A game like Wednesday's one is like a final. We have to control ourselves. This will not happen again."
RETURN TO ARSENAL POSSIBLE FOR PODOLSKI
Frustrated in Italy, Lukas Podolski's future could still include his London-based parent club.
The on-loan attacker's agent, Ali Petkas, said a return to the Emirates Stadium is still possible for his client. Podolski is currently on loan at Inter Milan, but he has failed to score in eight appearances.
Inter have not said whether they'd like to make the move permanent, and Petkas said anything — even a return to Arsenal — is possible.
"For the moment he's on loan at Inter, and when it ends at the end of the season he could return to Arsenal, where he still has a year on his contract," Petkas told Turkish media outlet Fanatik.
Petkas also said a move to Turkish giants Galatasaray has not been ruled out.
AGENT: IBRAHIMOVIC TO PLAY BEYOND PSG DEAL
After previously saying he would probably retire at Paris Saint-Germain, it appears Zlatan Ibrahimovic might take a different career path.
The Swedish striker's agent, Mino Raiola, said Ibrahimovic could keep playing for the next eight years, and there's now no guarantee that he will retire when his contract expires in 2016.
"Will he end his career at PSG? I don't know," Raiola said in an interview with France's RMC radio station. "He has another eight years of his career ahead. We have reached an agreement. He worked 15 years for himself, now the next eight he will work for me."
This is contrast to comments by the 33-year-old Ibrahimovic last August, in which he said he did not see himself playing anywhere beyond the end of his PSG contract.
—
What do you think of Salah's recent performances? Should Guardiola be concerned over Ribery? What do you expect from Ibrahimovic and Podolski in the future?
Share your thoughts below.