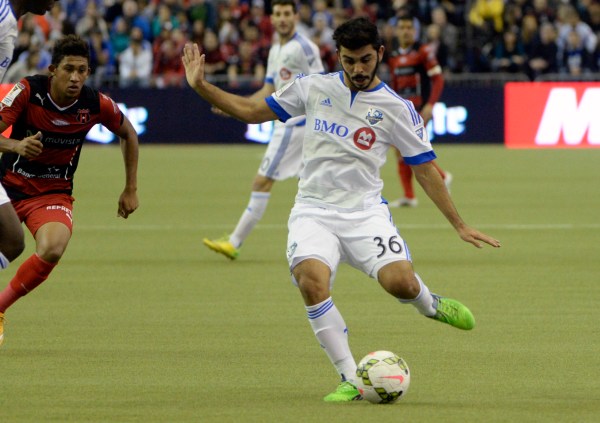 photo by Eric Bolte/USA Today Sports
By FRANCO PANIZO
A dream and potentially historic run continued in Canada on Wednesday, as the Montreal Impact moved within 90 minutes of the CONCACAF Champions League final with a shut-out victory over Alajuelense.
Riding a pair of early goals from Ignacio Piatti and Victor Cabrera, the Impact grabbed a 2-0 win in the first leg of their semifinals series against the Costa Rican club. Piatti opened the scoring nine minutes into the game off of a feed from Dominic Oduro, and Cabrera added the insurance tally in the 15th to put Montreal in the driver's seat ahead of the April 7 rematch in Central America.
Playing without the injured Justin Mapp and with head coach Frank Klopas not on the sidelines due to suspension, the Impact grabbed a two-goal advantage in front of a home crowd of 33,675 at the Olympic Stadium to keep hopes of becoming the first MLS team to win the tournament alive.
Montreal's rabid start set the tone for the victory. Oduro hit in a cross from the right, and quarterfinals hero and rookie forward Cameron Porter let it roll to Piatti for a strong finish.
Before Alajuelense could shake off the goal, the Impact struck again. Marco Donadel's corner kick found its way to Cabrera, and the Argentine defender pushed the ball into the back of the net to put the Costa Rican side in a big hole.
Alajuelense improved as the game wore on, especially in the second half, but could not find the favorable away goal that would have made things less bleak ahead of the return leg at Estadio Alejandro Morera Soto.
Montreal is looking to become just the second MLS team and first Canadian side to reach the Champions League final. Real Salt Lake is the only other MLS club to have made to the championship series, but lost, 3-2, to Monterrey in 2011.
—–
What do you think of the Impact's 2-0 win over Alajuelense? Feeling confident about Montreal's chances to reach the final? Could you see this Impact team making history and winning the tournament?
Share your thoughts below.