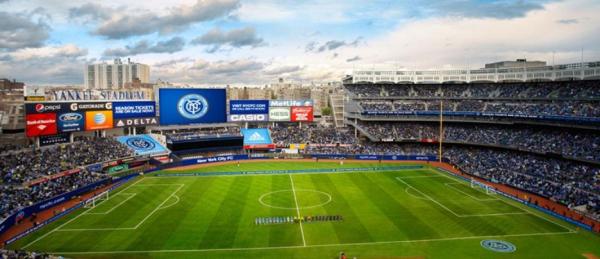 By FRANCO PANIZO
NEW YORK — Though multiple reports suggest not everything is going perfectly with the team's plans to play at Yankee Stadium, New York City FC officials are maintaining a confident public front on the subject of the venue's field conditions for both soccer and baseball.
A day after the Wall Street Journal published a story that quoted Yankees players fretting over the condition of the field at Yankee Stadium, several members of NYCFC said Wednesday they were not worried about any potential hiccups. NYCFC understood some of the Yankees players' uneasiness, but insisted that the proper measures have been taken to ensure there are no field problems for either themselves or the world-renowned ball club.
"Transitioning a field from baseball to soccer was discussed with the Yankees," said NYCFC sporting director Claudio Reyna said during Media Day. "They were the lead, and that's what they feel comfortable with on the front end, the back end to flip the field. I think, naturally, when someone comes in, there's going to be concern from the players.
"But from my end, just knowing how this organization is, they put a lot of work into making sure that the field is prepared for their baseball team, first and foremost, and they're equally committed to make sure we have a good playing surface. It's an amazing team. These guys have been doing it for years, and I remain only confident that it's going to be good."
A New York Daily News report on Wednesday revealed images of the stadium's field in the midst of its transition to soccer field ahead of Sunday's home opener, with fresh grass having recently been brought in. That's led to concerns that the field won't have time to take root before Sunday's opener.
Still, there is a confidence among NYCFC officials and players. Captain and star forward David Villa on Wednesday delivered a vote of confidence for the field conversion, which is said to take between 2-3 days and relies on mobile lighting to regrow grass.
Villa played once before at Yankee Stadium, helping Spain grab a 2-0 win over the Republic of Ireland in an international friendly in June 2013, and pointed to the fact that there were no issues that day as a reason why he believes things will go over smoothly this year.
"The field was brilliant in that instance," said Villa. "I hear that the grounds crew is going to take care off the field and that it will be brilliant, and I'm sure that will be the case. We're confident in it being fantastic."
Yankee Stadium is serving as a temporary venue for NYCFC, which is partly owned by the Yankees, until the MLS club finds land within the five boroughs of New York to construct a soccer-specific stadium. Reyna said Wednesday that talks on that front are ongoing, but revealed no specifics or tangible evidence of progress.
"We're having conversations, positive conversations with the city and the mayor's office," said Reyna. "They continue happening, so we're looking to find something as soon as possible."
New York City FC will play its first home game at Yankee Stadium when it hosts the New England Revolution on Sunday.
—–
What do think of the Yankee Stadium field situation? Think the conditions will be fine, or see it being a disaster on Sunday?
Share your thoughts below.