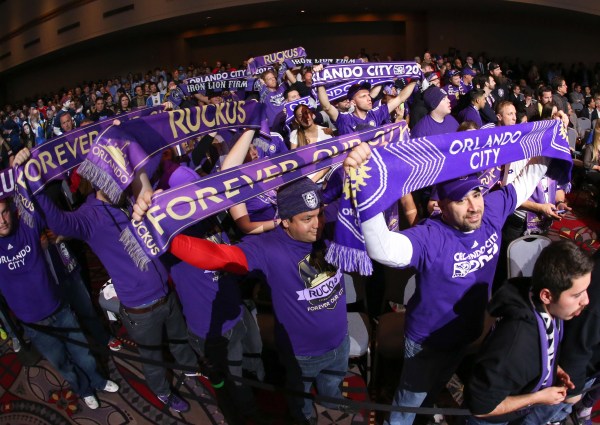 Photo by Bill Streicher/USA TODAY Sports
By FRANCO PANIZO
ORLANDO, Fla. — Decorated in purple and tattooed with lion logos, this city is making no reservations about how much it has embraced its soccer club. From billboards and banners to jerseys and scarves, it is easy to see that there's a genuine excitement for Orlando City as it gets set to make its much-anticipated MLS debut.
Years of hard work and preparation have culminated into this moment for Orlando City, with the club beginning its MLS tenure on Sunday evening in front of a sold-out crowd at the cavernous and renovated Citrus Bowl. More than 62,000 tickets have been sold for what is the biggest match-up of the 2015 season's opening weekend, an impressive number that few could have predicted.
Whereas much of the national spotlight has been fixed on the Pacific Northwest in Week 1 of recent years, it is Orlando City that will have its home game against New York City FC nationally televised on ESPN. The buzz is real, and players, coaches and fans alike can all feel it.
"Wherever you look, people are talking about it, "said Orlando City's Brek Shea. "You're seeing purple banners or magnets and even on the news they're talking about it. It's different for, obviously, an MLS, American team. We haven't even played one minute yet and the buzz is pretty ridiculous, so it's very cool to see."
Indeed, the excitement has gradually intensified this past week. The media presence has grown with each passing day, and fans eager to see the Lions officially introduce themselves to MLS after years in USL Pro jumped at the chance to buy 2,000 standing-room tickets that the club made available on Wednesday.
Those tickets were gone within 24 hours, providing yet another example as to how warmly Orlando City has been welcomed by locals throughout the Central Florida metropolis.
Other ones are the "#FillTheBowl" banner that hangs proudly on the front of City Hall, fans sporting team gear and slapping magnets and stickers on their cars, corporate partners like Subway emblazoning the club's logo on their doors even in places as far as Kissimmee, and local bars and restaurants promoting the game.
There are also billboards highlighting the likes of Kaka and supporters scattered around the city, underling how much purple pride and passion Orlando has right now for its second professional sports team.
"When I see the way the city is preparing this first game, I never seen in my life. We're not even in MLS," veteran centerback Aurelien Collin recently told SBI. "After (I won the 2013) championship in Kansas City, we had maybe eight billboards. We're not even in the MLS and we have 53. You see the difference. I feel a big love, a big city of soccer getting huge already. For this first game, the city is behind us already."
Added midfielder Amobi Okugo: "It's crazy. You go around and people are like, 'Good luck on Sunday, good luck on Sunday.' It's just amazing to see they're so excited that I feel like they're more excited than us for the game on Sunday. With this market, trying to be the soccer capital of the south, it's a big step for a lot of players and we're hoping we can do that."
As much as the game is the main draw in Orlando this weekend, the MLS club has also organized other events for fans to take part in. There was a 5K run on Thursday that pulled in a good crowd, and Saturday's main attraction is a pub crawl that starts in the afternoon and goes into the night.
All this buzz would not have been possible, however, had Orlando City ever lost the faith of making it into MLS. The Lions said early in their existence as a USL Pro side that they would join the top league in the United States and Canada one day, and while there were some initial detractors who questioned MLS returning to Florida, Orlando City made that lofty dream a reality.
"I'm lucky to be able to be really pleased for those who put so much work in to get where we are today," said head coach Adrian Heath of Sunday's game. "People thought it was a bit of a pipe dream that we were going to go the MLS – and I raised my eyebrows when (club president Phil Rawlins) said we'd get 60,000 – but once again the front office has done what they've said and I think we're all excited and looking forward to it.
It is early and the brand-new shine will wear off as time goes on, but at this point there's no denying that Orlando has fully bought into the club. Now, it's just about sustaining that momentum.
"It's good, and it's up to us if we want to be talked about more to put the product on the field, do well on the field," said goalkeeper Donovan Ricketts. "That's why people talk about you, it's because of what you do. If you don't do well, they'll speak about you in a bad way. Hopefully, we can keep the conversation going in a good way."