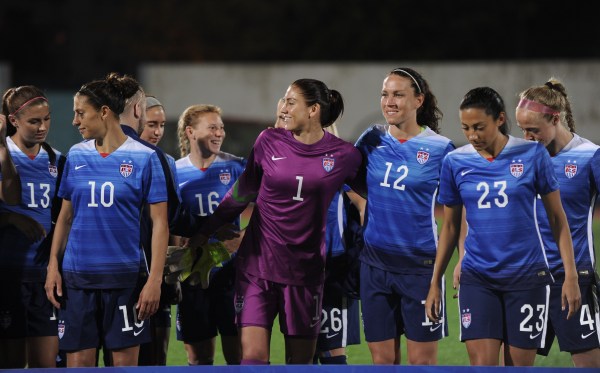 By CAITLIN MURRAY
Ever since March of last year, if anyone mentioned the Algarve Cup and the U.S. Women's National Team together, it was probably wasn't much to do with the tournament itself. It was probably about the trajectory the team has taken since then: a coach fired, the first drop in FIFA rankings in six years and swirling doubts about whether the dominant U.S. team can live up to its high expectations.
As the Americans return to the site of a historically bad performance that set off alarm bells in 2014, all eyes will be on whether the USWNT can look like a team ready to compete in a Women's World Cup, which is less than 100 days away.
The USWNT looked sorely out of sync at the last Algarve Cup and some in the USWNT circle blamed then-coach Tom Sermanni's constant lineup changes. But replacement Jill Ellis has taken a different approach since taking the helm, and now, with the World Cup around the corner, a core group will lead the Americans through the Algarve Cup.
"We're pretty close to a starting lineup," Ellis told SBI from Portugal. "But I've said from day one that we need to have players that are comfortable starting so we have depth heading into a World Cup, where it takes seven games to win it. The Algarve Cup is a physically taxing tournament with four games in eight days, so there will be some slightly different lineups. But we're really focusing on the partnership piece between the positions on the field."
The Algarve Cup is one of the key stops on the now-short road to Canada 2015 and provides the most World Cup-like preparations the team will see before June. If the Americans don't do well, it may be hard to recover — not just tactically, but mentally.
Last year, an annual confidence-booster turned into a shocker for the Americans. They placed in their worst-ever seventh at the Algarve Cup in spectacular fashion: A loss to the USWNT's previous coach, Sweden's Pia Sundhage, snapped a 43-game unbeaten streak that Sundhage had started and then the Americans conceded a record five goals in a single match against lightweight Denmark.
The following month, Sermanni was fired and Ellis replaced him. With Ellis came plenty of changes, including a new preferred system and new preferred lineups. But it's hard to say whether the Americans ever came all the way back from the jolt of last year's Algarve Cup.
Questions still linger for the Americans. Their midfield struggled last month to possess and connect lines against good France and England teams. Forwards have struggled to finish clear chances for stretches. And against attacking, aggressive teams like France and Brazil, the U.S. back line has seen the flanks turn into liabilities.
As Ellis looks for answers, her best opportunity comes this week in Portugal. For the first time in many months, Ellis has all her starters with her. Alex Morgan is back after spending more of the past year injured than not; Hope Solo is back from suspension after being reinstated by Ellis; and Megan Rapinoe and Christie Rampone had short layoffs, but should see minutes in the Algarve Cup.
If there was ever a time to experiment with chemistry and simulate a World Cup, the time is now.
"This is one of the first times we've all been in together and we've got a few players still getting back to fitness," Ellis said. "But I think for the purposes of chemistry, our choices in players and playing how we want to play, having those options makes us a little deeper. And these are special players that have come back, so it's great to have everyone in."
The U.S. women arrive in Portugal in need of a good showing. They have won just two matches in their last six, and their latest win against England would've probably ended in a draw if not for a incorrect offside call.
Fortunately or unfortunately, depending on how you look at it, the USWNT drew a much easier group for this year's Algarve Cup. Last year, the Americans faced powerhouses Japan and Sweden. This year, they are in a group with Norway, Switzerland and Iceland — teams that should not give the Americans much trouble, which may help the USWNT's score lines more than it will World Cup preparations.
What will be key is how the Americans look, no matter the results. Some three months from the the World Cup in Canada, the USWNT needs to move past the basics and look like a team that is in the final stages of top-level preparations. It's now about the big picture.
"It's a matter of continuing to build chemistry between players and roles," Ellis said. "There are still a couple things we're looking at, but I told the players we've spent six months working on a lot of different things and now the pieces need to come together."
The USWNT kicks off the Algarve Cup at 2 p.m. ET Wednesday against Norway, live on FOX Sports 1.