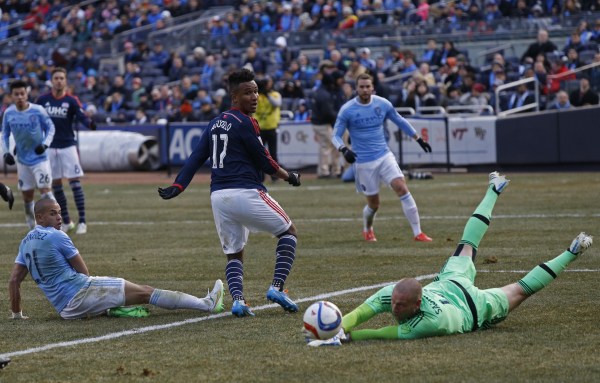 photo by Adam Hunger/USA Today Sports
By FRANCO PANIZO
NEW YORK — The New England Revolution had no problems creating chances against New York City FC.
It was finishing them that was the issue.
The Revolution were blanked for the second straight week on Sunday night, missing multiple chances in a 2-0 loss at Yankee Stadium. While star NYCFC forward David Villa stole the spotlight with his dominant one-goal, one-assist performance, it was New England's poor finishing that left the Revolution most frustrated in the immediate aftermath of the Eastern Conference affair.
"Yeah, I think we were there," said Revolution head coach Jay Heaps when asked if the club's finishing woes were the difference in the match. "We were just going through them there. I've got to back and watch them on film, but in my mind we had four or five clear chances – not half chances, clear chances – and it would've been nice to finish those."
The bulk of New England's opportunities came after Villa's 19th-minute opener, but they almost all ended with the Revolution failing to hit the target. Even one of the the club's few chances that was on frame went for naught, as forward Juan Agudelo's header was denied superbly by NYCFC goalkeeper Josh Saunders in the 41st minute.
Moments earlier, a mistake in NYCFC's defensive third allowed Revolution midfielder Chris Tierney a good look on goal that he hit on the wrong side of the net. On another play, Jose Goncalves could've put a shot on frame on a rebound, but used his left foot instead of his right and sent his effort harmlessly high.
Agudelo also was involved in another notable play in the opening stanza, flicking a nifty pass from the left side of the penalty area that went just wide of the far post and past the outstretched leg of teammate Kelyn Rowe. The ensuing frustrated collapse from Agudelo summed up New England's wasteful first half and ultimately its night.
"At the end of the day, you need luck, too, and we didn't have luck tonight," said Tierney. "There were plenty of balls that six inches the other way, it's a goal. We'll keep trying to work on creating chances and if we do so, goals will come."
Unfortunately for the Revolution, their chances almost disintegrated in the second half. Not even the insertion of forward Charlie Davies was enough to help the club overcome its wastefulness through the first 45 minutes, and Goncalves' 66th-minute red card all but assured that New England would leave New York with a  loss.
"I thought we had chances to go ahead in this game and we didn't take the chances," said Heaps. "You go home without any points if you don't take your chances."
Up next for the Revolution is their home opener against the Montreal Impact, who will be playing on short rest after taking part in the CONCACAF Champions League. New England  not only needs goals in that one after being held scoreless for two straight games, but also a win.
"We have to take the positives from this and move onto next week at home and we have to get three points at home," said Revolution goalkeeper Bobby Shuttleworth. "That's the end of the story right there."