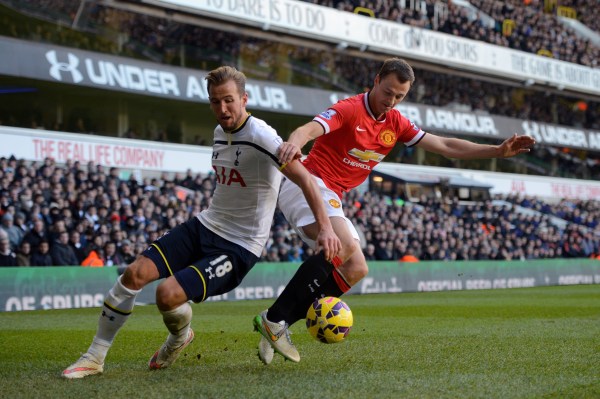 By IVES GALARCEP
With the top three teams in the English Premier League having pulled away from the pack, the race for the fourth and final UEFA Champions League place is shaping up to be a stacked one.
Manchester United is the current holder of that place, and will face a stiff challenge from Tottenham today, as Harry Kane and Spurs look for a win at Old Trafford that would help them pull even with Louis van Gaal's squad.
In Spain, Real Madrid is trying to figure out what  is keeping Carlo Ancelotti's team from finding the dominant early-season form we saw from the defending European champions. Barcelona's win on Saturday has Real Madrid four points out of first place, so anything less than a win against Levante could be a crippling blow in efforts to catch a surging Barca.
The U.S. Under-17 Men's National Team faces a do-or-die showdown with Jamaica today, with the winner of their rematch earning a place in the Under-17 World Cup. Jamaica posted a 1-0 victory against the Americans just four days ago, but Christian Pulisic and the rest of Richie Williams' side will have no choice but to bring a better performance to avoid missing the World Cup.
If you will be watching today's action, please feel free to share your thoughts, opinions and some play-by-play in the comments section below.
Enjoy the action (Today's Soccer TV schedule is after the jump):
SOCCER SUNDAY

7 a.m. — beIN Sports USA — Almerica vs. Villarreal
9:30 a.m. — NBC Sports — Chelsea vs. Southampton
10 a.m. — beIN Sports USA — Genoa vs. Chievo
10 a.m. — beIN Sports en Espanol — Sassuolo vs. Parma
10 a.m. — Fox Soccer Plus — Dundee United vs. Celtic
10:30 a.m. — GolTV USA — Wolfsburg vs. Freiburg
Noon — NBC Sports — Manchester United vs. Tottenham
Noon — Premier League Extra Time — Everton vs. Newcastle
Noon — beIN Sports USA — Bordeaux vs. PSG
Noon — beIN Sports en Espanol — Malaga vs. Cordoba
12:30 p.m. — GolTV USA — Borussa M'gladbach vs. Hannover
2 p.m. —beIN Sports en Espanol — Sevilla vs. Elche
2 p.m. — Univision — Toluca vs. Queretaro
3 p.m. — GolTV USA — Ponte Preta vs. Sao Paulo
4 p.m. — beIN Sports USA — Real Madrid vs. Levante
4 p.m. — Fox Sports 2 — CONCACAF U-17 Playoff 1
5 p.m. — ESPN2 — New York City FC vs. New England Revolution
7 p.m. — Fox Sports 1 — Portland Timbers vs. LA Galaxy
7 p.m. — Fox Sports 2 — U.S. Under-17 National Team vs. Jamaica (World Cup playoff)
10 p.m. — Fox Sports 2 — CONCACAF U-17 Playoff 3