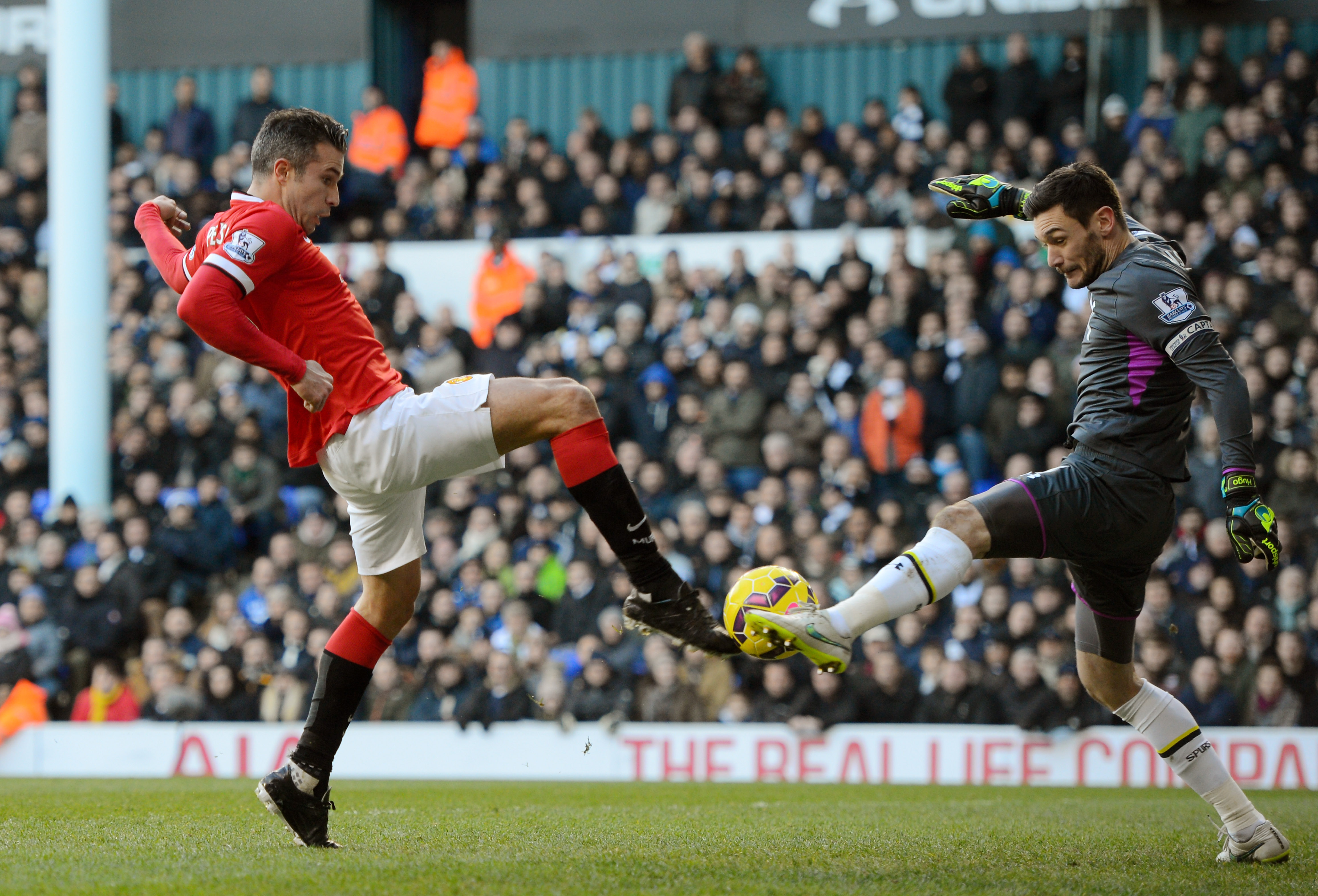 By ADAM TROXTELL
Manchester United's hopes of playing in next season's UEFA Champions League come up against Tottenham's very same ambitions in the premier game of this weekend's soccer on TV.
Tottenham visit Old Trafford on Sunday knowing a win will draw them level on points with the Red Devils. Man United now has only the league to concentrate on after being knocked out of the FA Cup on Monday. Earlier in the day, Southampton will try to keep up in the race for Europe on the road against league leaders Chelsea.
Barcelona can secure top spot in La Liga for the weekend with a win against strugglers Eibar. That would take them four points ahead of Real Madrid, who hosts Levante the following day.
In Germany, last place Stuttgart faces a tough test on the road against Bayer Leverkusen. Werder Bremen's good run of form — one loss in eight games — comes up against league leaders Bayern Munich.
Club America hosts Santos Laguna while trying to climb further up the table in Liga MX action. Fourth place Puebla's streak of four games without defeat is on the line when sixth place CD Guadalajara pays a visit.
Finally, Sunday's MLS action features two nationally televised games. New York City FC has its home opener against New England Revolution, and later Portland Timbers host champions LA Galaxy in a West Coast battle.
Here is this weekend's soccer on TV (schedule after the jump):
THIS WEEKEND'S SOCCER ON TV
FRIDAY
3:30 p.m. — beIN Sports USA — Monaco vs. Bastia
3:30 p.m. — GolTV USA — Bayer Leverkusen vs. Stuttgart
3:45 p.m. — beIN Sports en Espanol — Valencia vs. Deportivo La Coruna
3:45 p.m. — Fox Soccer Plus — Aberdeen vs. Motherwell
7 p.m. — UniMas — Houston Dynamo vs. Orlando City
9:30 p.m. — ESPN Deportes — Morelia vs. Universidad Guadalajara
11:30 p.m. — ESPN Deportes — Tijuana vs. Veracruz
SATURDAY
6:30 a.m. — Fox Sports 2 — Perth Glory vs. Wellington Phoenix
8 a.m. — beIN Sports USA — Middlesbrough vs. Ipswich Town
8:45 a.m. — NBCSN — Crystal Palace vs. QPR
10:30 a.m. — GolTV USA — Werder Bremen vs. Bayern Munich
11 a.m. — NBCSN — Arsenal vs. West Ham
11 a.m. — Premier League Extra Time — Leicester vs. Hull
11 a.m. — Premier League Extra Time — Sunderland vs. Aston Villa
11 a.m. — Premier League Extra Time — West Brom vs. Stoke
11 a.m. — beIN Sports USA — Norwich vs. Derby County
11 a.m. — beIN Sports en Espanol — Espanyol vs. Atletico Madrid
1 p.m. — beIN Sports USA — Eibar vs. Barcelona
1:30 p.m. — NBCSN — Burnley vs. Manchester City
1:30 p.m. — GolTV USA — Borussia Dortmund vs. Koln
3 p.m. — beIN Sports en Espanol — Rayo Vallecano vs. Granada
3 p.m. — GolTV USA — Corinthians vs. RB Brasil
5 p.m. — beIN Sports en Espanol — Celta de Vigo vs. Athletic Bilbao
5:30 p.m.. — GolTV USA — Marilia vs. Santos
6 p.m. — DirecTV/MLS Live — Chicago Fire vs. Vancouver Whitecaps
7 p.m. — ESPN Deportes — Puebla vs. Guadalajara
7 p.m. — Univision — America vs. Santos Laguna
7:30 p.m. — DirecTV/MLS Live — Columbus Crew vs. Toronto FC
9 p.m. — Univision Deportes — Tigres vs. Pachuca
8:30 p.m. — DirecTV/MLS Live — FC Dallas vs. Sporting Kansas City
9:30 p.m. — DirecTV/MLS Live — Real Salt Lake vs. Philadelphia Union
10 p.m. — GolTV USA — Deportivo Tepic vs. Celaya
10 p.m. — DirecTV/MLS Live — Seattle Sounders vs. San Jose Earthquakes
10:06 p.m. — Telemundo — Leon vs. Cruz Azul
11 p.m. — Univision Deportes — Atlas vs. Monterrey
11 p.m. — Galavision — Chiapas vs. Pumas
SUNDAY
7 a.m. — beIN Sports USA — Almerica vs. Villarreal
9:30 a.m. — NBCSN — Chelsea vs. Southampton
10 a.m. — beIN Sports USA — Genoa vs. Chievo
10 a.m. — beIN Sports en Espanol — Sassuolo vs. Parma
10 a.m. — Fox Soccer Plus — Dundee United vs. Celtic
10:30 a.m. — GolTV USA — Wolfsburg vs. Freiburg
Noon — NBCSN — Manchester United vs. Tottenham
Noon — Premier League Extra Time — Everton vs. Newcastle
Noon — beIN Sports USA — Bordeaux vs. PSG
Noon — beIN Sports en Espanol — Malaga vs. Cordoba
12:30 p.m. — GolTV USA — Borussa M'gladbach vs. Hannover
2 p.m. —beIN Sports en Espanol — Sevilla vs. Elche
2 p.m. — Univision — Toluca vs. Queretaro
3 p.m. — GolTV USA — Ponte Preta vs. Sao Paulo
4 p.m. — beIN Sports USA — Real Madrid vs. Levante
4 p.m. — Fox Sports 2 — CONCACAF U-17 Playoff 1
5 p.m. — ESPN2 — New York City FC vs. New England Revolution
7 p.m. — Fox Sports 1 — Portland Timbers vs. LA Galaxy
7 p.m. — Fox Sports 2 — U.S. Under-17 National Team vs. Jamaica (World Cup playoff)
10 p.m. — Fox Sports 2 — CONCACAF U-17 Playoff 3