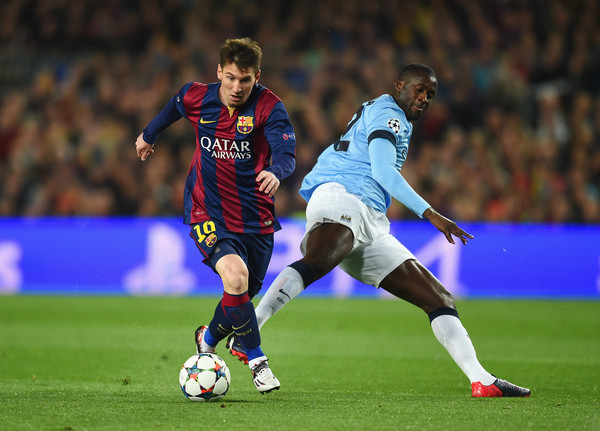 By DAN KARELL
Lionel Messi may not have won the last two FIFA Ballon d'Or awards, but he's beaten Cristiano Ronaldo in at least one category from 2014.
In the 17th edition of France Football's Stars of Salary findings, Messi tops the list with a reported €65 million in revenue in 2014 from both his salary and endorsement deals combined. It's the fifth consecutive year that the 27-year-old midfielder has finished atop France Football's annual money list.
Behind Messi, Ronaldo took home a more-than-respectable €54 million, and rounding out the top five is Barcelona's Neymar at €36.5 million, Paris Saint-Germain's Thiago Silva at €27.5, and Robin Van Persie of Manchester United at €26.5.
12 players took home €20 million in revenue or more in 2014, as the rising salary costs in soccer show no signs of slowing down. While Spanish clubs hold the top three places, of the next nine, five of the players named play in the English Premier League, two play in Ligue 1, one plays in the Bundesliga, and one more plays in La Liga.
Here are some more stories to start off your Thursday:
FRENCH GUIANA STUNS HONDURAS
With a place in the 2015 Gold Cup on the line, Honduras failed to live up to expectations on the road at CONCACAF minnows French Guiana.
Despite taking a 1-0 lead through former New England Revolution forward Jerry Bengtson, Honduras conceded three goals to French Guiana in Remire-Montjoly. First, Marvin Torvic poked home off a flicked-on header from a corner kick in the 25th minute, and then two minutes later, Sloan Privat of French club Caen finished from close range to give French Guiana the lead.
Privat scored again in the 62nd minute with a well-placed header to give Guiana added insurance ahead of the second-leg match on Sunday. French Guiana have never qualified for the Gold Cup.
GUARDADO HOPES TO REMAIN IN HOLLAND
Enjoying some of the best club form of his career, Mexico left back Andres Guardado is hoping his future remains in Holland when his loan to PSV Eindhoven ends this summer.
Guardado has scored one goal in 29 games in all competitions, becoming an integral part of the PSV Eindhoven squad this season. Though he's scheduled to return to La Liga side Valencia this summer, Guardado is hoping that PSV step up and buy him outright.
"From the moment I arrived in Eindhoven, I notice that the people love me," Guardado told Netherlands newspaper Voetbal International. "I want to play for a long time for PSV. It's not up to me (though). I hope Valencia sells me to PSV. "
"At PSV I have experienced the best period of my career and I get a lot of respect from the fans. I want to live in Eindhoven, become a champion, and become a better player. I want to stay at PSV."
QUICK KICKS
Real Madrid midfielder Sami Khedira revealed that he could leave the club when his contract expires at the end of June 2015. (REPORT)
Real Madrid are also looking into the possibility of signing Bayern Munich left back David Alaba. (REPORT)
Italian side Sampdoria announced on Twitter that they've signed Ajax defender Niklas Moisander, effective July 1. (REPORT)
Veteran Uruguayan centerback Diego Lugano is headed for BK Haken in Sweden for the upcoming season. (REPORT)
French club Bastia were fined €60,000 Euros and banned from having a visiting fan section for their team's next two road matches following offenses committed while on the road at AS Monaco. (REPORT)
——————-
What do you think of these reports? Impressed with how much money Messi brought home in 2014 before taxes? Do you see Honduras qualifying for the Gold Cup?
Share your thoughts below.