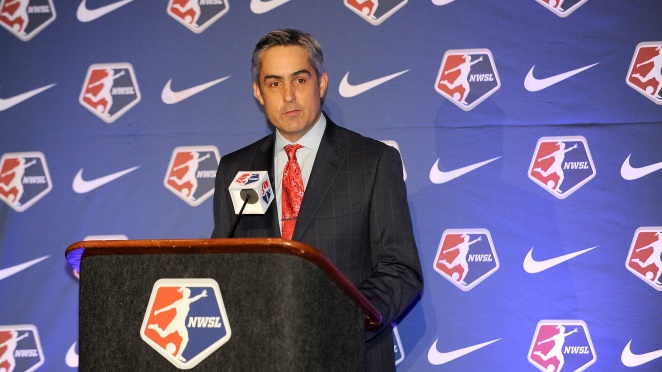 By CAITLIN MURRAY
If there is a year to figure out whether women's soccer has a place in the American professional sports landscape, that year may start this weekend.
With the third season of the National Women's Soccer League kicking off Friday, the echoes of failed leagues past seem to grow a bit louder – twice professional women's soccer leagues failed and both times, their third year was the last.
But the NWSL is not like those other leagues, Commissioner Jeff Plush told SBI this week – the NWSL is on the brink of growth and built to last.
"I'm very cognizant of the previous two leagues and where things started to go the wrong direction. I think it's a completely different situation here," Plush told SBI.
"The teams that we're talking to about expansion in the markets we're looking at, the TV partners we're talking to, it's all with a long-term view," he said. "So no one who's really involved in the business on a day-to-day is worrying about that it's year three."
For a young start-up league like the NWSL, expansion is a sign of growth and the league is in "real dialogue" with six ownership groups about joining, including "a couple" of MLS franchises, Plush said. More groups beyond those six have expressed interest.
A decision on expansion for 2016 and beyond could come quickly. On Friday, before the Houston Dynamo-backed Dash will host the Washington Spirit to open the 2015 season, the league's board will meet to discuss expansion and weigh options. The Dash were the NWSL's first expansion team, joining last year.
"The discussion is for us to talk through how we want to do it, the timing of it and the number," Plush said of expansion, which will be a top item on the meeting's agenda. "You want to expand in a prudent manner and expand based on the right people in the right markets with the right infrastructure, both stadia and human infrastructure."
Plush, now on the job with NWSL for just four months after high-level stints with the Colorado Rapids and Helium Sports Group, only recently finished site visits to the league's nine franchises. Visits to prospective expansion candidates have also been ongoing.
NWSL may be a different league than the previous two attempts, as Plush is quick to point out, but he is certainly taking lessons from both past failures. For the Women's United Soccer Association, which folded in 2003, and Women's Professional Soccer, which folded in 2012, expansion turned out to be more a curse than a blessing. Both failed leagues were burdened by ownership groups unable to weather the early net losses that most sports franchises face and WPS was pulled into high-profile legal battles with one of its expansion club owners.
Plush declined to specify the six groups interested in joining NWSL, but MLS' Real Salt Lake has openly speculated on fielding a women's team in their planned new, smaller reserve team stadium. Other teams, such as NASL's Indy Eleven, have done the same in promoting proposed stadium projects.
The NWSL is also on the brink of announcing a multiyear television deal, Plush said. Last year, ESPN agreed to broadcast nine matches on a one-season deal. All other matches were available free online via YouTube, which is expected to be the preferred broadcast platform again this year.
With expansion and broadcast deals in the works, Plush may be new to the job, but he is not short on confidence regarding the league's health and trajectory.
To be sure, part of that confidence comes from the NWSL's backing from the U.S. Soccer Federation. Plush's office is in U.S. Soccer's Chicago headquarters. The federation shares front office resources with the NWSL and subsidizes player salaries for national team members. The Mexican and Canadian federations subsidize their players, too.
It's a unique arrangement that has given the NWSL more solid footing than previous leagues. According to U.S. Soccer's most recent financial audit, the federation handles "all management, governance, operational, administrative, and advisory service for NWSL," while the league's nine clubs equally own the league.
When asked about the NWSL's relationship to U.S. Soccer, Plush said having the league grow to be able to stand on its own may be a worthy business goal, but he hinted the league will need to do whatever it takes, including relying on U.S. Soccer, to thrive.
"If we can be a standalone entity at some point, that's the right strategy for how to run our league as a business," Plush said. "But whether or not that means we're by ourselves or not, I think we'll let that evolve. Whatever will be the right structure going forward for the sport is what we'll do."
With year three around the corner – the crucial benchmark of leagues past – it just might become a bit clearer what evolving will look like.