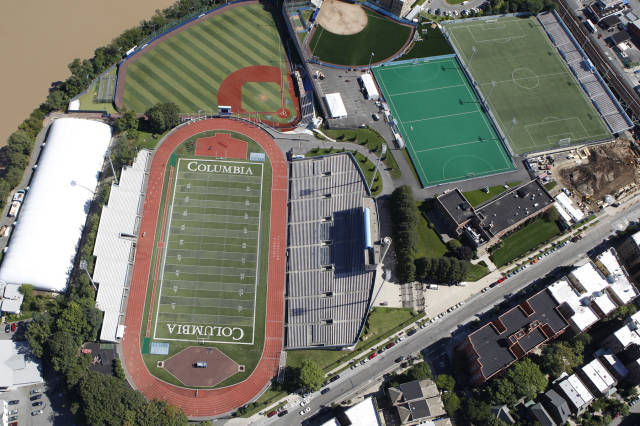 Courtesy of Columbia University
By DAN KARELL
New York City FC's search for a home of their own has taken them back to Manhattan.
While currently playing at Yankee Stadium in the Bronx, NYCFC have identified Columbia University's Baker Athletics Complex in the Inwood neighborhood on the northern tip of Manhattan as a potential stadium site, according to a report in the New York Times. The report states that NYCFC has proposed replacing Columbia's 17,000-seat Lawrence A. Wien Stadium with a 25,000 seat stadium that could cost $400 million to build. NYCFC and Columbia football would share the stadium.
NYCFC would also spend an additional $30 million, over an undisclosed amount of time, to refurbish the other athletic fields on the complex.
Columbia University declined to comment to the New York Times while the MLS club gave a standard response, including the oft-repeated line, "We are working with the de Blasio administration to find a world-class site for a soccer-specific stadium."
The proposed stadium site would keep NYCFC within the five boroughs of New York City if the report is true, and it's not far from the A and the 1 subway lines, as well as the Marble Hill Metro North train station for folks traveling up the Hudson Line into Westchester and Putnam counties.
Parking would be an issue, as would space for the larger stadium with the athletics complex already squeezed into a small area.
But after attempts to build a stadium in Queens, the Bronx, and on a pier in Lower Manhattan, NYCFC appear to have found a new potential stadium site to go after.
—————-
What do you think of this report? What do you think of the stadium site? Do you believe fans would trek up to Inwood to watch NYCFC?
Share your thoughts below.