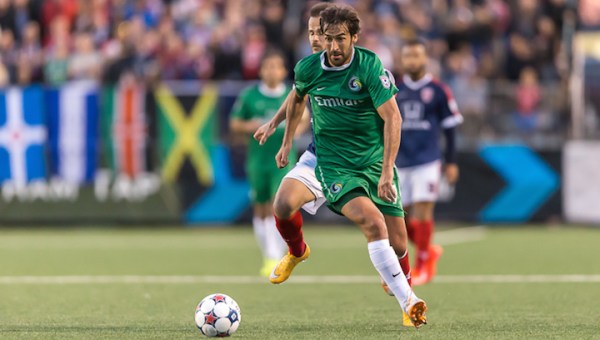 Photo by Matt Schlotzhauer/Indy Eleven

By COLE KELLOGG
The New York Cosmos dominated the chances in a 1-1 draw at Indy Eleven on Saturday night in the second game of the NASL season for both parties.
The Eleven got on the board 12 minutes in through Brian Brown. Brown chipped in a shot from outside the box after a save forced Cosmos goalkeeper Jimmy Maurer away from his net. When asked about the early goal Maurer gave up, Cosmos Head Coach Gio Savarese responded positively.
"That happens in matches sometimes," said Savarese. "We just have to continue going forward and make sure that we are very steady."
The former Real Madrid and Spain star, Raul, found the equalizer for the Cosmos with a header in the 65th minute. The assist was whipped in by Walter Restrepo from the left side at about 20 yards out. The league goal was Raul's first in a Cosmos jersey.
"I think it was huge for us, because it gave us the tie," said Savarese. "He wants to score plenty of goals, and I'm sure this one will be very special for him and for the organization."
New York was the better team on the night, holding 60% possession and getting 11 shots off against the home team.
"I'm very proud of the guys for their work tonight. Sometimes soccer is that way. It would have been very positive for us to have 6 points away from home, but with 4 we are happy," said an optimistic Savarese post-match.
The Cosmos dominated the chances over the course of the game, with a standout performance from Indy's goalkeeper Kristian Nicht vital in the draw. The match was notably choppy from Indy's end, with wingers Dragan Stojkov and Osman Melgares both earning yellow cards in the second half.
"They've always been a physical team," said Savarese. "They're tough everywhere. Maybe the referee could've given a few more yellow cards, but I do not think he did a bad job."
The next game for the Cosmos is their home opener, as they host the Tampa Bay Rowdies on April 18 at 7 p.m.
"We're excited to get to play at home now, with our crowd and fans and against a very good team," said Savarese. "I think it's going to be a great match."