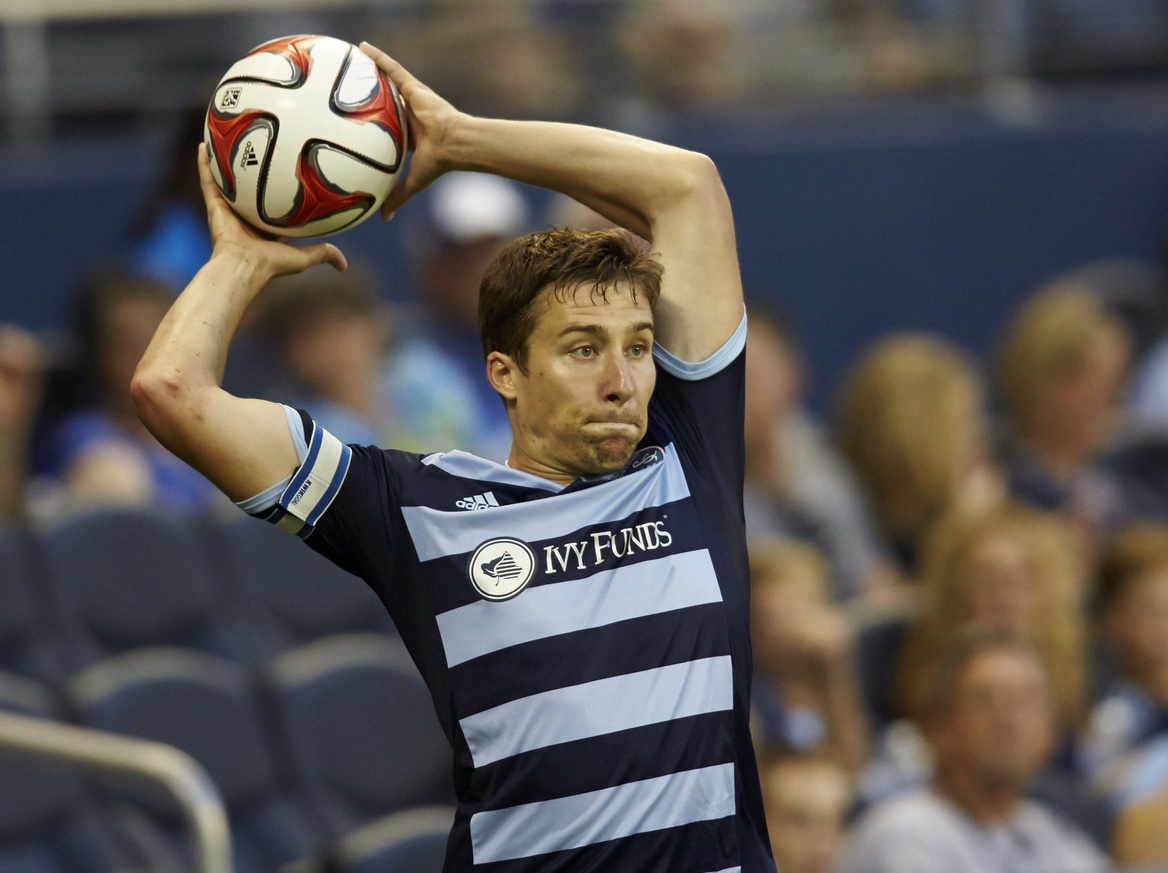 Photo by Gary Rohman/USA TODAY Sports Images
By TATE STEINLAGE 
KANSAS CITY, Kan. — Soccer's long throw-in didn't originate in the nation's heartland, but Sporting Kansas City has certainly staked a claim as perfecters of the play in MLS.
However, with it has come criticism.
Prior to Saturday's scoreless draw between Real Salt Lake and Sporting KC, Real Salt Lake defender Tony Beltran called the play "garbage" while also admitting its effectiveness on the attacking end.
"They've got a lot of dangerous attacking pieces," Beltran said in a preview video for Saturday's game. "Obviously on set pieces they're dangerous, and with this garbage long throw-in that they do, it's dangerous. They've got a lot of good attacking players."
Real Salt Lake manager Jeff Cassar said after the game that the frustration is primarily due to the havoc the long throw-in causes inside the penalty area.
"We talked about all week knowing what they were going to do and not getting frustrated," Cassar said. "I get frustrated watching it, but you have to deal with it. It's a dangerous ball at the top of the six-yard box at times, and a lot of times it's the second ball that causes the big commotion. It just causes havoc. And on top of that we have to bring our whole team back to deal with it. If we kept three people forward, we'd probably catch them on the counter, but we'd also leave ourselves exposed."
Also on Saturday, former Real Salt Lake manager and current New York City FC head man Jason Kreis spoke out against the long throw-in after his team's 2-1 loss to the Philadelphia Union. His side dropped three points at home a week prior to Sporting KC on a long throw-in goal headed in by defender Ike Opara.
"We talked a little bit about how we wanted to defend long throw-ins, so it's a shame that we have to spend more time and energy talking about that, but it is the game and it's the league we're in, and there seems to be a few teams that are focused on attacking that way," Kreis told reporters. "Organizationally, we need to solve it, since we gave away that goal that cost us the match against Kansas City."
Why the disdain for the long throw-in? Sporting KC manager Peter Vermes said he's not sure, but that the answer doesn't faze him much.
"I'm not frustrated with it," Vermes said showing a slight grin on his face.  "Honestly, you'd have to ask them (rest of the league), because I'm not frustrated with it. It's another opportunity to put the ball in the box and see if you can make something happen."
Sporting KC didn't score on any long throw-ins Saturday. In fact, the home team opted to play for shorter throw-ins and quick restarts from out of bounds throughout the match as Real Salt Lake threw numbers in the box.
The few times it did utilize the long throw-in, though, two or three blue jerseys were around the ball eyeing contact toward the back of the net.
"It's been big. We've won games off of it," Sporting KC captain Matt Besler said. "We feel like we're a very dangerous team on set pieces, and we feel like that's a true set piece. That's why we do it. You saw tonight that we change it up as well. We can throw it short, we can throw it quick. Whatever's on that's what we do."
Whether its the unorthodox nature of the long throw-in that seems to upset opposing teams or simply the effectiveness the play has had over the last two years, Besler and company are not about to change their ways.
"We feel like it's something that helps us win," Besler said. "That's why we do it, we try to win."
——-
What do you make of the long throw-in? Are you a proponent of the play or not a fan of it?
Share your thoughts below.