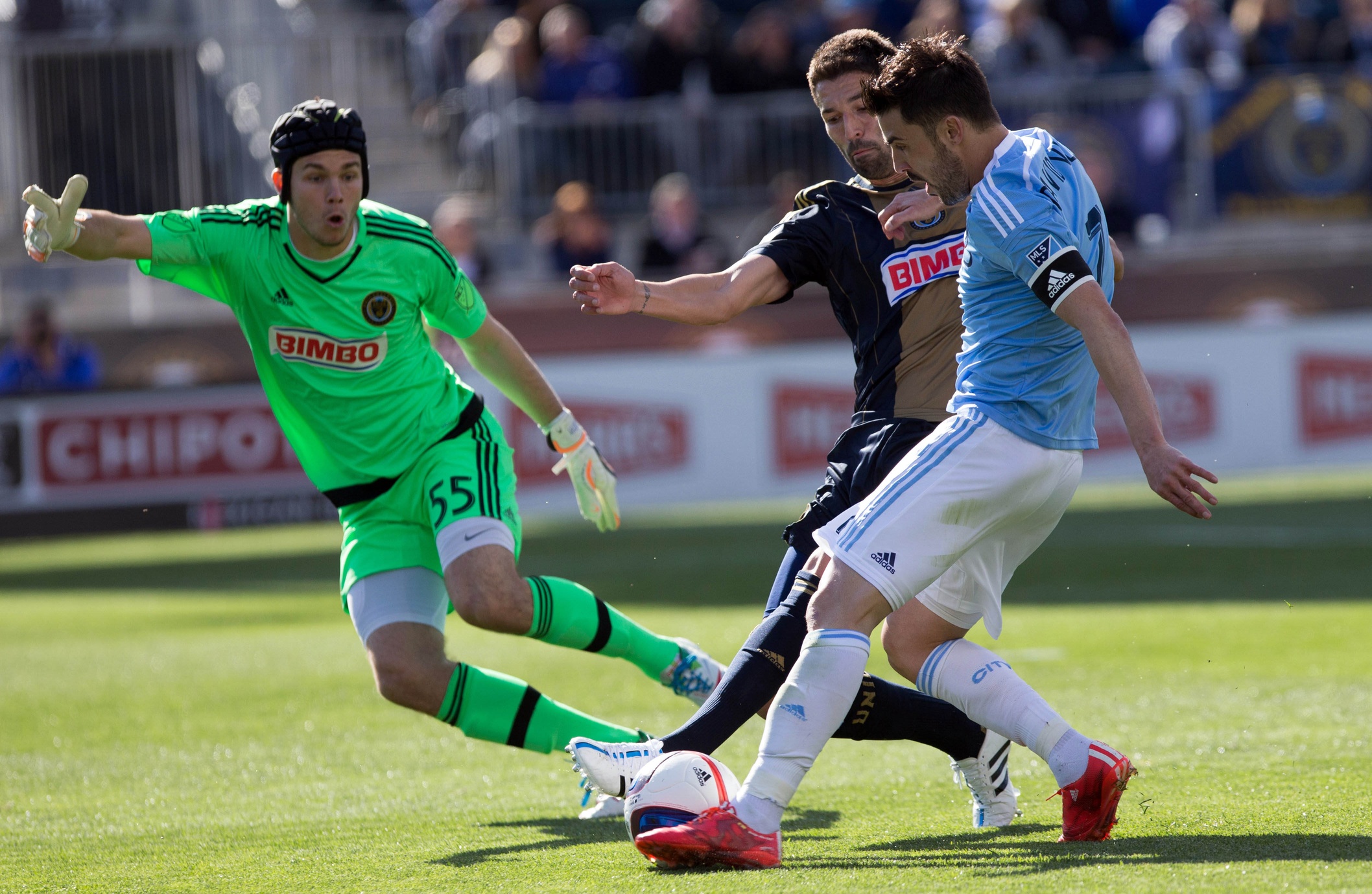 Photo by Bill Streicher/USA Today Sports
By ADAM TROXTELL
Early in their Philadelphia Union careers, goalkeeper John McCarthy and attacker Eric Ayuk have wasted no time making an impact.
Both started and had an influential role in the Union's 2-1 win against New York City FC on Saturday. Head coach Jim Curtin was pleased with the performance, indicating that for the moment, at least, they'll remain a firm part of the match-day squad.
"[McCarthy] is a kid who got a shot, and a guy who I believed in," Curtin said in a Tuesday press conference. "He's earned the chance to start, and he's going to run with it. No one was prepared for Ayuk at all. I can't take him out of the team after his past performances."
Philadelphia native McCarthy, 22, made his MLS debut against NYCFC, producing three saves ahead of Vincent Nogueira's stoppage time winner. While Curtin was happy with the way he played and the crowd's response to the goalkeeper, the coach pointed out that there is still competition for the position that he hopes McCarthy will thrive under.
"He was very appreciative and came up after the game and gave me a big hug," Curtin said. "It's great, but I just reminded him that it's one game. Just like every position, it's a day-to-day thing in training. We want guys looking over their shoulder and to maintain a healthy competition."
Ayuk was part of the opening goal, in which Sebastien Le Toux's cross was deflected by the 18-year-old, off of Zach Pfeffer and across the line. Curtin said he was happy to see Ayuk cope so well in front of a big crowd at PPL Park.
The Union will now face NYCFC again on Thursday, this time inside the much cozier confines of Yankee Stadium. Curtin said the short field changes the preparation for the game, though the Union do plan to employ the long throw-in to their advantage.
"It's a tough place to play, a small field," Curtin said. "I'm sure if they could make it bigger, they would. There will be no margin for error. Long throw-ins become an issue. We have it, so we might as well use it.
"Some people like it, some people don't like it, but it's something we have. Every throw-in can turn into a corner kick."