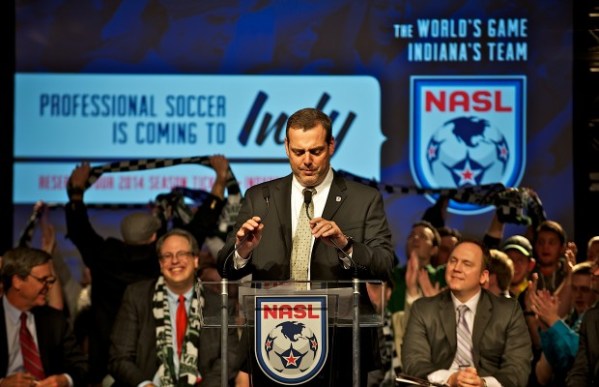 By RYAN TOLMICH
The NASL's latest expansion efforts could see the league increase it's footprint in the Northeast.
The Hartford Courant reported Tuesday that the NASL is currently in talks with a prospective ownership group based in Hartford, Connecticut. Commissioner Bill Peterson was quick to praise the city as a soccer market, but did not reveal details regarding the identity of the potential ownership or the league's expansion plans.
"I personally believe Hartford would be a highly successful market," Peterson said, according to the Courant. "It has a long track record of drawing great crowds for soccer matches, whether it's U.S. soccer or some of the exhibitions that have been held over the years. There's great participation and a great following for the national teams, and there's a great following for professional teams. So we're pretty confident that a team there in that area, put together correctly, managed correctly, would be very successful."
If expansion were to find its way into Hartford, the team would likely make a home at a renovated Dillon Stadium, which seats about 10,000 people. Rentschler Field, which is no stranger to hosting U.S. Men's National Team contests and holds 40,000 fans, is considered too big.
"You can put 20,000 people in a 60,000-seat stadium and you should be pretty proud," Peterson said,. "But people will look at it and say it's only a third full."
A Hartford-based team would act as a natural rival to the New York Cosmos, the league's only other team in the Northeast.
Peterson, who has connections to Hartford through his time as president of the United Football League's Hartford Colonials, believes that the state of Connecticut has the resources, and the motivation, to support its own team.
"I think it's a fantastic sports market," Peterson said. "I think there are a lot of sports fans in the Hartford area. I like it from a business perspective because the companies that are there are very supportive of the community and teams with the community, the media companies that are there … you end up with a statewide deal. It's not just Hartford. A lot of the sponsorship and the media deals will get into the entire state. So I know they'll call it Hartford, but it's really a Connecticut team.
"I have no doubt that if done correctly, it could be really, really successful there. It would fit in great with our league and the teams we have on the East Coast. It would be fantastic."
—
What do you think of potential Hartford expansion? How would a team fare in Connecticut? What other locations would you like to see the NASL investigate for potential expansion?
Share your thoughts below.