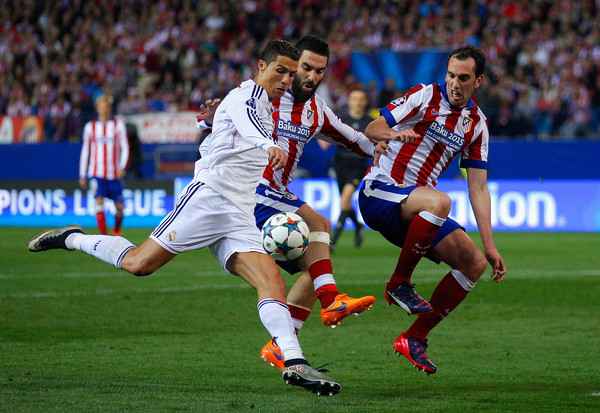 By AARON CRANFORD
While Juventus narrowly edged AS Monaco, 1-0, in Turin, Real Madrid once again had issues finding a way to produce a win against their city rival Atletico Madrid, as 54,000 fans watched the two sides settle for a thrilling 0-0 draw.
Both sides had a handful of chances to grab the crucial first goal, but some big saves helped prevent a change in score. In total, 25 shots were attempted in Tuesday's edition of the Madrid derby, with 18 of those coming from Real.
Things looked bleak at times for the hosts, even from the opening whistle. In the 4th minute, Wales international Gareth Bale was one-on-one with Atletico goalkeeper Jan Oblak, a situation no keeper wants to be in. But the Slovakian stood firm, and saved Bale's blast with his outstretched right hand, keeping the scoreline level.
Los Blancos would have their way with Atletico, though, forcing Oblak into making 8 saves on the day. Rojiblancos' best chance came in the 37th minute when Antoine Griezmann forced Iker Casillas into his toughest save of the match.
Juventus claimed the advantage in their quarterfinal pairing with AS Monaco after edging them 1-0 in the first leg. The Italian side benefited from a Arturo Vidal penalty kick to take the Turin club one step closer to being into the semifinals of the UEFA Champions League for the first time since 2003.
Monaco's best chance came in the 10th minute when Yannick Ferreira-Carrasco had an open chance in front of goal, but Gianluigi Buffon was there to save the day.
The decisive moment came in the 57th minute when Ricardo Carvalho stumbled over Alvaro Morata in the penalty box, and Vidal stepped up to drill in the game-winning goal.
The Madrid derby will return on April 22nd for the second leg, and Juventus will head to Monaco on the same day.