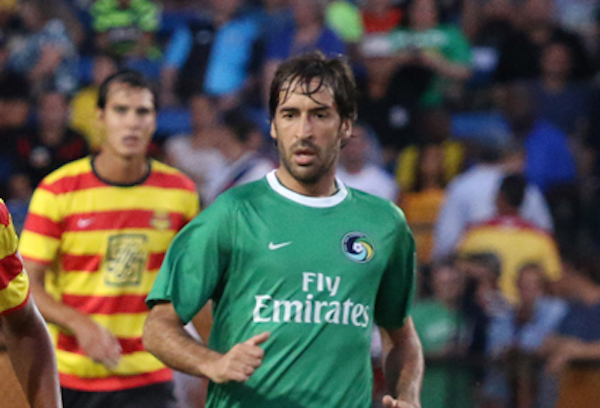 By FRANCO PANIZO
FT. LAUDERDALE, Fla. — The New York Cosmos earned a season-opening win on Saturday night, but not everything went according to plan for the Cosmos.
Spanish legend Raul made his NASL debut in the Cosmos' 1-0 victory against the Ft. Lauderdale Strikers, but the former Real Madrid legend was largely ineffective at Lockhart Stadium on Saturday night. Raul failed to get into a rhythm in his league debut and contributed little to a Cosmos attack that only found the winner after he, somewhat surprisingly, came off early in the second half.
Raul was replaced by Sebastian Guenzatti in the 53rd minute of a match played in front of a record crowd of 11,691. After the match, it was revealed that Raul came off with a minor injury, though there were conflicting accounts of just what the injury was.
The 37-year-old striker said he felt some discomfort in his hamstring while head coach Giovanni Savarese said the pain was in Raul's Achilles' heel. On Sunday, sources confirmed to SBI that Raul had suffered a mild hamstring strain, not an Achilles injury.
"As soon as he felt it, he said, 'Precautionary, better to come out,'" said Savarese. "We want to have him the whole year. He's been training very well, he's looking very healthy, so we wanted to make sure that we save him a little bit and then he'd be ready for next week."
The injury slowed Raul, who was given some freedom to roam in the match, and did not allow him to make much of an impact in his NASL debut. The former Real Madrid striker struggled to find teammates in dangerous positions – on one occasion late in the first half he misjudged the weight of a simple, short-range pass to a teammate feet from him, resulting in it being picked off – and he didn't do a good job of putting himself in scoring positions.
Drifting far from the penalty area, Raul did not see much of the ball. He scrapped and tried to get involved, but just never got into a groove with his new teammates. He was seen mostly walking and not following up plays in the minutes leading up to his exit.
Still, Savarese hailed his star forward's performance in the midst of questions about the lackluster showing.
"It was excellent, because you can see his touches are different, he's very smart, he finds spaces, he's able to connect going forward," said Savarese, "and he's able to maintain the ball with us and make good decisions that give us the possibilities to be able to keep pushing forward the lines and be able to play in that half of the field."
Raul held off from making any grand proclamations about the league and its style of play, saying he needed more than just one game to really assess it all. He did, however, note that the level of play was "demanding, physical and competitive".
Raul was disappointed to have to come off early into the second half because of his mild injury, but he's still keen on making an impact this season with the Cosmos. In fact, he reiterated his desire to win and help grow the sport after the match.
"I've been playing soccer for 20 years, but I want to keep playing and to leave my stamp on the Cosmos, to help the team as well as the academy," said Raul. "Soccer here has lots of potential here, lots of kids are playing it, and being able to help with all my experience is what I want to accomplish."
To do that, he will need to continue to acclimate to the Cosmos and NASL. He'll also need to stay healthy, and perform much better than he did on Saturday.
"Always, every game, every week there's going to be improvements," said Savarese. "But it was a very good start."