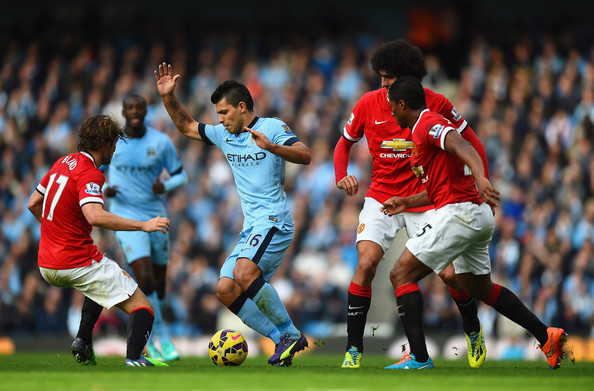 By AYDIN REYHAN
The domestic action continues this weekend after a bit of a midweek treat from the big leagues.
The biggest game on paper is the one taking place at Old Trafford when Manchester United hosts crosstown rivals Manchester City. With one point separating the two, tensions will be even higher as more than city pride is at stake.
Spanish action is headlined by Barcelona's matchup with Sevilla, while Real Madrid pairs up with Eibar.
In Italy, Napoli will travel to Fiorentina knowing they are two points behind the Viola who sit in fourth. Meanwhile, Borussia Dortmund will visit Borussia Moenchengladbach in their bid to climb all the way up to eighth.
Here is all that is happening in the top leagues around Europe this weekend:
ENGLAND
Manchester United will host Manchester City as the hosts are in third with 62 points, knowing their city-rivals are one point and one place behind them in the standings. The first meeting ended 1-0 to the visitors thanks to a 63rd-minute strike from Sergio Aguero, a man who has to be tip-top for Sunday's meeting.
Chelsea visits Queens Park Rangers in a London-based rivalry as the hosts will look to finally climb out of the relegation zone. The league-leaders will not make it an easy task as they look to build on their seven-point lead on second-placed Man United.
West Ham and Stoke City are dead-level on points in ninth and 10th respectively. They will meet at Boleyn Ground in London, giving the advantage to the Hammers.
Here are all of the fixtures in the Premier League taking place this weekend:
Swansea-Everton
Southampton-Hull
Sunderland-Crystal Palace
Tottenham-Aston Villa
West Brom-Leicester
West Ham-Stoke
Burnley-Arsenal
QPR-Chelsea
Man United-Man City
SPAIN
Sevilla could jump up to fourth if they can succeed against Barcelona at home. Winning this will not only give them three points, but would prove to be a huge favor to Real Madrid who will look to be only one point out of first behind the Blaugrana. The Europa League champions already defeated Real at home, so Barcelona could be their second major home win this season.
Real Madrid will host Eibar in a game where all that should be on their minds are all three points. The reigning Champions League winners will be boosted by the presence of Cristiano Ronaldo, whose suspension was rescinded following appeal.
Malaga will look to slow down Atletico Madrid who sits in third place when they play host on Saturday, while the Valencia derby also takes place when Valencia hosts Levante, whose David Barral had a hat-trick a couple of matches ago.
Here is what is happening in La Liga this weekend:
Real Madrid-Eibar
Malaga-Atletico
Sevilla-Barcelona
Almeria-Granada
Celta Vigo-Rayo
Getafe-Villarreal
Espanyol-Bilbao
Sociedad-Deportivo
Cordoba-Elche
Valencia-Levante
GERMANY
Borussia Moenchengladbach will look to stay in third when they host 10th-placed Borussia Dortmund who will look to rise up to eighth. Both teams have it all to play for so this one could be promising, but the match will be extra important for Marco Reus, who will be facing his former team on the road.
Bayern Munich could actually help Dortmund a week after defeating them when they host eight-placed Eintracht Frankfurt, an opponent they are very much expected to defeat.
Bayer Leverkusen will look to get over their German Cup exit at the feet of Bayern Munich by defeating Mainz on the road and perhaps jumping into third ahead of Moenchengladbach. If they lose, they are still guaranteed to stay in fourth.
Here are the Bundesliga fixtures:
Hannover-Hertha Berlin
Bayern-Frankfurt
Moenchengladbach-Dortmund
Mainz-Leverkusen
Paderborn-Augsburg
Schalke-Freiburg
Hamburg-Wolfsburg
Koln-Hoffenheim
Stuttgart-Werder Bremen
ITALY
Napoli will visit Fiorentina looking to overlap them into fourth. Winning will put them only one point ahead, but that is all that's needed. After exiting at the hands of Lazio from the Copa Italia, there will be an extra boost of motivation and urgency on the field from the Naples-based team.
AC Milan can jump into seventh when they host Sampdoria, who will not want to give up their Europa League spot by any means. Even with this one to be played at the San Siro, Milan can expect an onslaught from their visitors.
League-leading Juventus will travel to dead-last Parma in what should be a cakewalk as the hosts are in trouble on and off the field. With only 13 points gained thus far, confidence is no longer there following a host of financial problems.
Here are the Serie A fixtures:
Genoa-Cagliari
Parma-Juventus
Hellas Verona-Inter
Cesena-Chievo
Atalanta-Sassuolo
Lazio-Empoli
Napoli-Fiorentina
Torino-Roma
Udinese-Palermo
AC Milan-Sampdoria
FRANCE
Bordeaux can inflict further misery on Marseille as they look to defeat the third-placed side with the hope of being only one point out of fourth in the standings. Marseille lost, 3-2, at home to leaders Paris Saint-Germain, who will not play this weekend.
Toulouse is two points out of the relegation zone so that will be on their mind when they shot seventh-placed Montpellier in a game they clearly need to win.
Caen could jump into the top-10 when they host fourth-placed Monaco, who are not finding the back of the net as easily of late. Meanwhile, Guingamp could catch Rennes in ninth with a win against them on the road.
Here is the list of fixtures to be played in Ligue 1:
Caen-Monaco
Saint Etienne-Nantes
Evian-Lille
Lens-Lorient
Reims-Nice
Rennes-Guingamp
Toulouse-Montpellier
Bordeaux-Marseille