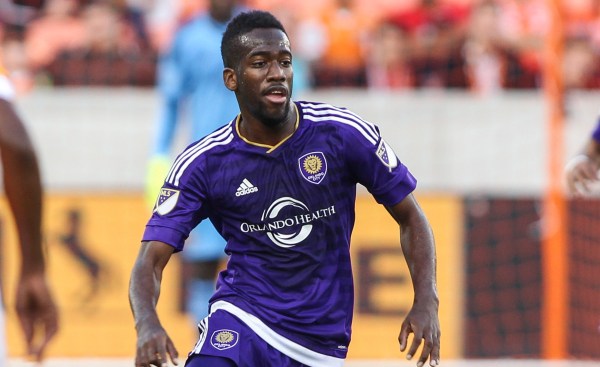 Photo by Troy Taormina/USA Today Sports
By MIKE GRAMAJO
SANFORD, Fla. — Orlando City is in sore need of some goals, and Kevin Molino is eager to score them.
The Trinidad & Tobago international, the first-ever MLS signing for the Lions, has been a regular starter at Orlando City since the season began. But Molino has failed to find his scoring touch through five games so far, a problem he sees himself correcting come Sunday.
"I'm hungry as ever," Molino told SBI. "The hardest thing is to get the first goal, but I think once I get my first goal, the rest will keep on coming. The most important thing is it's still early in the season, we still have a chance to capitalize on the chances that we missed, and we have to step up our game on finishing."
Molino has played mostly alongside Designated Player Kaka, and the two have shown solid chemistry in the opening weeks. But Friday's home loss against D.C. United yielded no goals and plenty of frustration for Molino and his teammates.
"When you look at Ricky [Kaka] you see qualities," said Molino. "You just want to put runs on and definitely the ball will get there to you. Even when the chance I got, I should of done better with it, but I wish I can get a chance back, and I'll definitely score."
Here are some more Orlando City notes:
RICKETTS NOT FAZED BY EARLY-SEASON STRUGGLES
Despite dominating every match it has played so far, Orlando City is in the midst of a three-game winless run. Goalkeeper Donovan Ricketts believes, however, that the team will shake off its funk sooner than later.
"It's a long season," said Ricketts. "Sometimes you're going to struggle defensively and sometimes offensively. As a team, we have to work hard to counter everything we face. We know what we have to do, the finishing will come. We're not focused on why we can't finish, we're focused on getting better each game."
With Ricketts still Orlando's No. 1 choice in goal, Sunday's game will mark a return to Providence Park and the Portland Timbers. Ricketts recently spent two years with the Cascadia outfit.
RESERVES FALL TO MINNESOTA UNITED
After taking a commanding lead in the first half, the Orlando City reserves fell to Minnesota United, 3-2, on Tuesday.
Harrison Heath set up Bryan Rochez with the opening goal in the 17th minute before Miguel Ibarra leveled the game moments later when he hit a volley past Earl Edwards. Heath would bag another assist for Orlando after his free kick connected with defender Conor Donovan, who headed the ball toward the net to reclaim the lead.
Former Orlando attacker Jamie Watson, now with Minnesota, leveled the game minutes into the second half. Watson also drew a penalty kick moments later, which Pablo Campos converted to cap the NASL side's comeback win.
ORLANDO CITY INJURY REPORT
Pedro Ribeiro is expected to miss two-to-three months after sustaining a hamstring strain during Friday's home loss to D.C. United.
Martin Paterson continued to practice apart from the team, and no timetable has been given for his return.
Tony Cascio hasn't trained since week three because of a back injury, and could be in store for a lengthy spell on the sidelines.