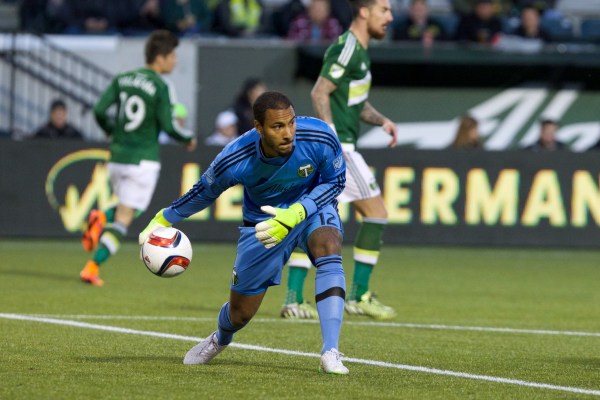 Photo by USA TODAY Sports
By FRANCO PANIZO
NEW YORK — Adam Kwarasey is not happy with the way he has performed so far this season. Still juggling his commitments as the starting goalkeeper for the Portland Timbers and as a family man in a new country, Kwarasey feels he has not been able to reach his top level.
Yet this weekend provided evidence that he's getting closer to the kind of form that saw him thrive at the club level in Sweden and play at a World Cup with Ghana.
Portland was up, 1-0, on the road against New York City FC on Sunday when in the 89th minute Kwarasey was called upon to produce the type of special moment that has not been seen, at least on a consistent basis, this season. Khiry Shelton was slipped through on goal from the right side of the penalty area, and had a great shot at equalizing the match.
Kwarasey reacted quickly, coming off his line at a good angle, making himself big, and denying a low shot with his right foot to preserve the lead and help the Timbers record their third shutout of the young season. It was just one play, but one that suggested that the 27-year-old keeper may be finding the kind of rhythm in MLS that he's yearning for.
"I can be a lot better, I can," the soft-spoken Kwarasey told SBI. "I'm not happy with the way I've played so far this season. Of course, I understand it's a reason for that – I'm new and still adjusting – but I know the level I can play and I know that I can be better than I've been so far."
So far, Kwarasey has gotten off to a decent but not stellar start with the Timbers. He has made some solid saves in each of their first seven games, but also allowed a couple of goals that a player of his caliber is expected to stop.
It's been a bit of a mixed bag for the former Ghana international, which is not all that surprising to members of Portland's staff given the transition that MLS newcomers like Kwarasey face on and off the field upon arriving to the league.
In search of a new challenge, the Oslo, Norway native signed with the Timbers this past winter after spending all of the initial years of his career with Norwegian outfit Stromsgodset. He's still getting acclimated to life in the United States, and is currently just as preoccupied with learning his new teammates' tendencies as he is getting his girlfriend and 10-month-old son settled in to their new surroundings without feeling too homesick.
Kwarasey says that all of that is playing a role in him not being able to live up to his own standards, but understanding the reason still does not make it any less frustrating for him. He wants to do more than just show glimpses of the player he knows he can be, even if he knows that it will take more time.
"Hopefully, I can let all of my potential out here," said Kwarasey. "I needed to get a change from where I've been. I've been with the same coaches for many years, and coming to some new coaches that teach new things is huge for me.
"I feel that I'm getting better in my head, but I just need to get it out every day."
Portland could certainly use Kwarasey performing at his top level. The club has not been able to overcome its slew of injuries at the start of the season and is off to an uneven start, compiling a 2-2-3 record that has it in eighth place in the competitive Western Conference.
The 6-foot-3 Kwarasey is not directly to blame for those struggles, but having a bigger presence in between the pipes would serve as a boost for a Timbers team that needs all the help it can get right now.
"For me, today, he was a big reason we won the game and we need that from him. He's capable of doing that," said Timbers head coach Caleb Porter after the 1-0 win over NYCFC at Yankee Stadium on Sunday. "It's not an easy transition for international players to come to Major League Soccer. It usually takes some time to settle, but I think he's actually transitioned pretty well. He's a great guy, good in the locker room and he's a good goalkeeper.
"He'll continue to grow and grow as time goes on, and I'm confident in his abilities. As he gets more confident by making a save like today, I think you'll see even another level out of him."
Right now, Porter and his staff are taking it day-by-day with Kwarasey. They are not putting any extra pressure on him to perform, knowing full well that he's still sorting things out with his family and that there have been other goalkeepers who have taken a year or more to adjust to MLS.
That has given Kwarasey reassurance, and he's staying calm and being patient despite craving to be at his very best.
"It's a combination of everything," said Kwarasey when asked why he isn't perform to his expectations. "It's adjusting to a new lifestyle, bringing my family over. Of course I'm concerned about them, I want them to enjoy every day. We're far away from our family and of course we miss them some times and it's tough. The time difference is nine hours, so it's difficult to kind of keep in touch on a daily basis.
"That's tough mentally, but we're still adjusting and of course I'm still adjusting. As soon as we kind of settle 100 percent, I think I'll be more capable of letting out all my potential."