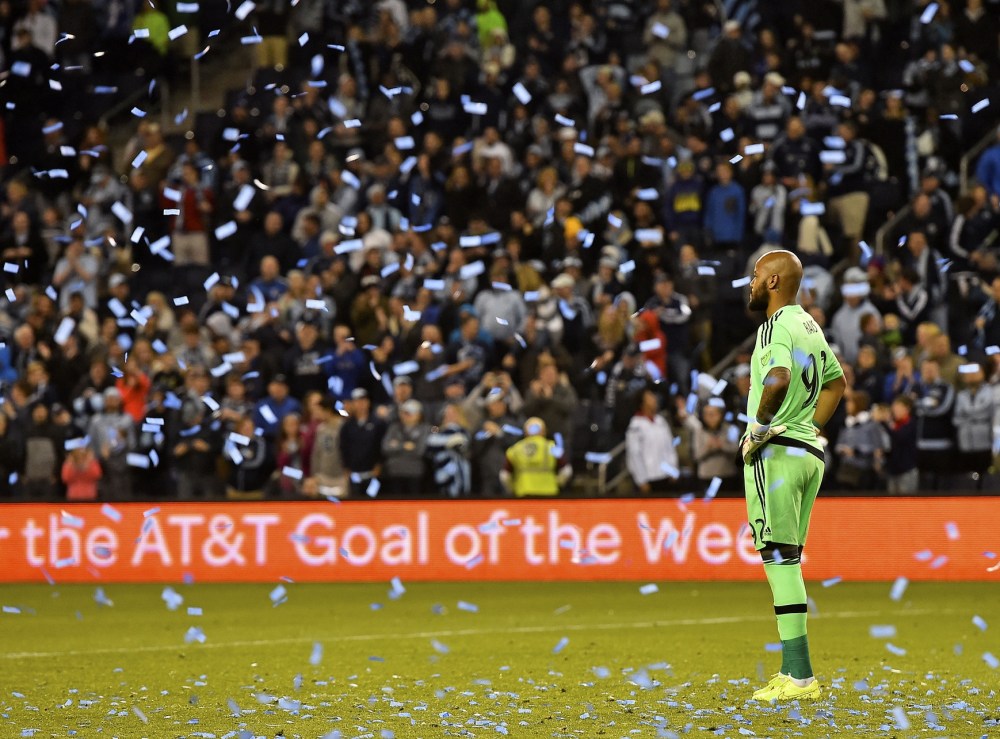 Rais M'bolhi returned to training Tuesday, and the Philadelphia Union may be forced to rely on the controversial goalkeeper after being struck by the injury bug.
Both Andre Blake and John McCarthy will miss out on this weekend's meeting with the Vancouver Whitecaps due to injury, with Blake suffering a meniscus injury similar to the one that has kept him out since the preseason. McCarthy, meanwhile, will miss out due to a concussion, leaving the Union with a bit of an issue at the goalkeeper position.
"Unfortunately, with Andre, we just got word, confirmation, and you feel bad for the kid, but he tore his right meniscus now, almost the exact same injury as the preseason," head coach Jim Curtin said at a press conference on Wednesday. "He'll be getting surgery tentatively, probably as soon as possible. Coincidentally, I get an email from Jamaica today asking to call him in and have him be part of the Gold Cup and Copa America, so I'm really devastated for the kid. He's had a tough run, obviously, with the injuries, so I feel bad for him.
"John had a strange play in (the weekend loss to Toronto FC) where he threw the ball and kind of fell awkwardly on it and it stopped the game for a little bit. There was a little contact to his head and obviously concussions are very sensitive right now, as they should be. In training, right after Andre left with an injury, John had a ball that was blocked and hit him in the side of the head and made him feel a little woozy and he was evaluated by the docs. He'll be out with a concussion."
In need of a starting goalkeeper, the Union will now likely turn to M'bolhi, who was benched in early April following a string of poor performances.
The Algerian goalkeeper, who had been away from the team since his benching, returned to the team Tuesday, just one day before the injury to his goalkeeping colleagues.
Curtin, who said that M'bolhi's sabbatical was a coach's decision, described the goalkeeper as "sharp" while also reiterating that he was still a Union player.
"First with Rais, he is a Philadelphia Union player still. That part never changed," Curtin said. "There have been teams in Europe that have enquired about him in the future. Obviously the window isn't open right now, and we'll always listen and explore, but he is a Union player first and foremost."
"We had contact," Curtin added on the goalkeeper's absence. "We've been in contact with Rais and we had him scheduled to come back. The thinking was to train, to stay fit, to stay sharp. Obviously a unique situation arises and now we have to adjust and now we have a decision to make for the weekend.
"There are a couple of options that we're exploring now. We haven't made a final decision. Whether it's a pool goalkeeper or one on loan. We're going to need two, one way or the other, and then we'll make a decision from there."
Curtin and the Union will do their due diligence on those options, as the team will need to acquire a goalkeeper in the near future. Curtin says that search could include some familiar faces that will help hold down the fort with M'bolhi for the time being.
"There are guys that are familiar with the team," said Curtin. "(Carolina RailHawks goalkeeper) Brian Sylvestre came to mind, that was the first one that popped into my head. Again, these players are going to be on other teams right now, so it's a unique situation where you have to loan for a guy similar to how you saw with Montreal with the CONCACAF final, maybe a short term loan scenario.
"With Andre's injury being a long one and knowing you're going to miss him in the summer, a move might have to be made."