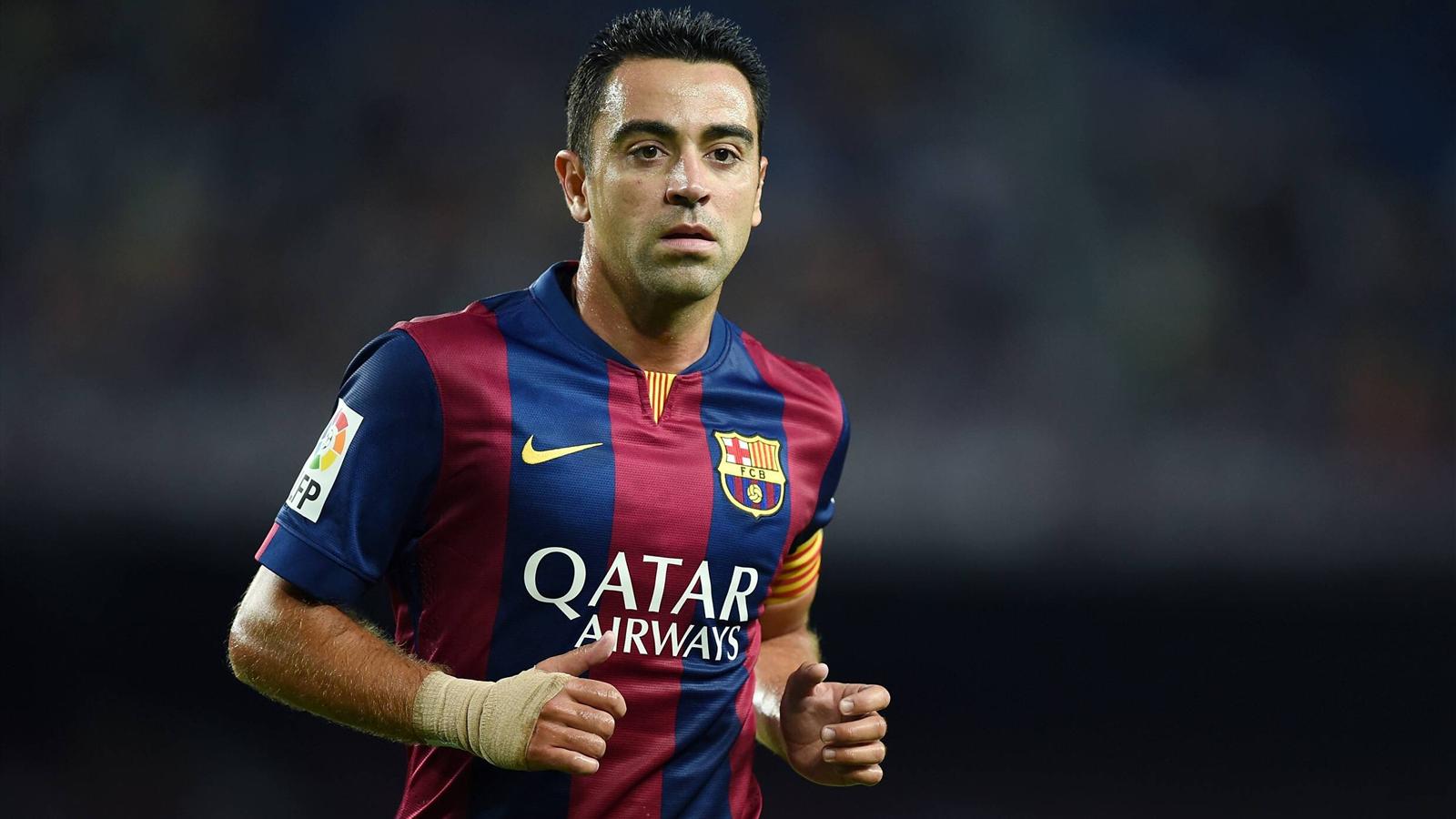 By DAN KARELL
A man who FC Barcelona refers to as the "architect" of their success over the past 15 years has announced that he's leaving the club for a new challenge.
Xavi confirmed reports at a press conference in Barcelona on Thursday, announcing that he will be leaving the club at the end of the season to sign with Qatari club Al-Sadd, the former club of fellow Spanish National Team legend Raul.
"I feel that I need to leave," Xavi told reporters, via the AP. "I am 35 and I have spent 17 seasons here. I think it is the moment to leave."
In 17 years with Barcelona's first team, Xavi has helped lead the club to an incredible 23 trophies, including eight La Liga titles and three UEFA Champions League titles. Xavi can take his personal trophy account to 25 with both the Copa Del Rey and Champions League still up for grabs. He holds the record for most appearances at the club with 866 including friendly matches.
"The only thing left is to win the last two finals," Xavi said. "This finale is special for me, spectacular. The script couldn't be better."
Xavi will have one last chance to say good bye to Barcelona fans this Saturday in the final home league match against Deportivo La Coruña. According to multiple reports, Xavi was close to joining New York City FC after Spain's disastrous World Cup in Brazil before then-newly hired head coach Luis Enrique called Xavi up and convinced him to stay.
Here are some more stories to kick off your Thursday:
STERLING'S AGENT HITS OUT AT LIVERPOOL
It's looking less and less likely that Raheem Sterling will be a part of Liverpool's plans moving forward.
According to a report out of the London Evening Standard, Sterling's agent Aidy Ward has hit out at Liverpool, claiming that Sterling wouldn't sign a new contract with the club even if they would pay him nearly £1 million per week, which of course the club weren't offering.
"I don't care about the PR of the club and the club situation. I don't care," Ward reportedly said. "He is definitely not signing. He's not signing for £700,000, £800,000, £900,000 a week. He is not signing. My job is to make sure I do the best with them [my clients]. If people say I am bad at my job, or they are badly advised it does not matter."
Sterling, just 20-years old, has scored seven goals in the English Premier League in 35 appearances, with 34 starts. Multiple reports in England claim that Chelsea, Manchester United, and Manchester City are all interested in signing the England winger.
HODGSON CALLS IN UNCAPPED TRIO FOR UPCOMING MATCHES
England manager Roy Hodgson has called in three new players to the England National Team who have shown promise over the course of the season.
In addition to regulars such as Phil Jones, Wayne Rooney, Joe Hart, and Jordan Henderson, Hodgson included Queens Park Rangers forward Charlie Austin, Leicester City forward Jamie Vardy, and Burnley goalkeeper Tom Heaten to a 24-man squad for a friendly match at the Republic of Ireland on June 7 and a Euro 2016 qualifying match at Slovenia on June 14.
"I'm pleased with the squad and pleased to welcome three people who get the chance, due to some extent, to the Under-21s squad for the Euros," Hodgson told the FA. "We've always had our eye on Charlie [Austin], but up to this point we haven't had the space in the squad. We'll give him every chance.
"I saw Jamie Vardy at Fleetwood and players like him who like running in behind defenders are good for coaches. He's had a good season. In the latter part of the season, he had a great run with Leicester and it will be good to get to know him."
QUICK KICKS
Netherlands FA chief Michael Van Praag has confirmed reports that he is dropping out of the race for the FIFA presidency. (REPORT)
Reports out of Barcelona claim that FC Barcelona are the most likely club for Paul Pogba to move to if he leaves Juventus this summer. (REPORT)
Tottenham has allowed forward Emmanuel Adebayor to return home to Togo to sort out personal issues, meaning he'll miss Spurs last EPL match against Everton and Spurs' postseason tour of Malaysia. (REPORT)
Danish midfielder Michael Krohn-Delhi is leaving Celta Vigo in the summer. (REPORT)
————-
What do you think of these reports? How will you remember Xavi's time at Barcelona? Where does he stand in the pantheon of Barcelona legends? Do you see Sterling leaving Liverpool this summer?
Share your thoughts below.