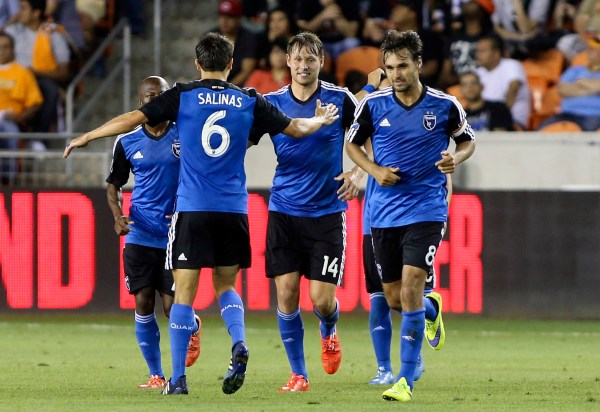 By LEOPOLDO PONCE
Dom Kinnear's first trip to Houston since leaving the Dynamo to take charge of the San Jose Earthquakes featured Kinnear doing something he did plenty of times at BBVA Compass Stadium.
Kinnear's team won.
Adam Jahn's 54th-minute goal was all the Earthquakes needed to escape Texas with a 1-0 victory and three precious road points on a night when the Dynamo dominated most of the match states. Houston had more shots, completed passes and overall possession, but failed to muster much of a real threat against the Earthquakes defense, which defended well against a steady Dynamo diet of crosses into the penalty area.
Clarence Goodson led the San Jose defense, as it was the reason throughout the game why none of the seven Dynamo corners led to any goals. Three of these corners came within the first fifteen minutes when the Dynamo seemed the closest to scoring. These quick corners eventually led to one of Houston's best chances at the 17th minute of play when Ricardo Clark got into space and tried to shoot from distance, but the shot managed to just go over the crossbar.
Bad news struck for San Jose in the first half when rookie standout Fatai Alashe picked up an injury off of a Ricardo Clark foul that eventually led to him taken off the field on a stretcher.
The Earthquakes held firm and never let the Dynamo break through for a goal, despite Houston having control of the play in the second half. Jahn delivered the lone goal of the match, heading home a quickly-taken free kick from midfielder Matias Perez Garcia.
The Houston Dynamo's next game is in Toronto, when they face Toronto FC as they open up the renovated BMO Field on Saturday. The San Jose Earthquakes travel to Colorado to face off against the Rapids this Friday.
Here are the match highlights:
[youtube http://www.youtube.com/watch?v=AGFE1ZSxAqA]