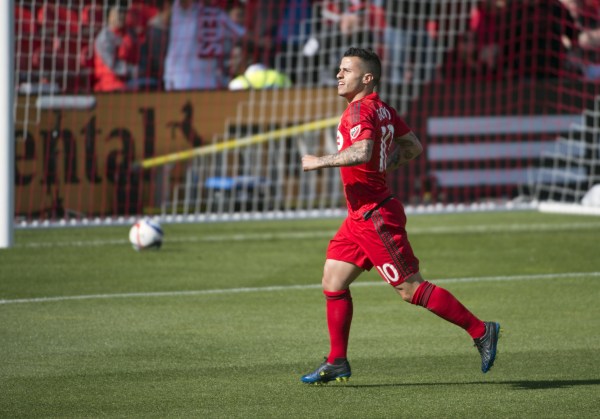 Photo by Nick Turchiaro/USA TODAY Sports
By RYAN TOLMICH
After losing Jozy Altidore to injury last week, Toronto FC's other big summer signing stepped up to lead the way in spectacular fashion.
Sebastian Giovinco scored a magnificent long-distance strike, leading Toronto FC to a 1-0 victory over the Portland Timbers at BMO Field.
The Italian's finish came just five minutes into the contest, setting the tone for a first half where he would prove threatening throughout.
After receiving the ball from Luke Moore, Giovinco rocketed a curling left-footed shot from well outside the box past a diving Adam Kwarasey, giving TFC an early lead that the team would never relinquish.
The goal was Giovinco's fifth in 10 appearances this season.
Giovinco continued to prove menacing in the ensuing minutes following his goal, seeing his shot blocked by teammate Jonathan Osorio in the 26th minute before forcing a diving save from Kwarasey, who finished with five saves, in the 36th minute.
On the other end, TFC goalkeeper Chris Konopka was forced to make five saves against the Timbers attack, the best of which came in the 83rd minute on a leaping save of a Dairon Asprilla long-distance rocket.
With the victory, TFC picks up its 13th point of the campaign and first home victory at the newly-renovated BMO Field. The Timbers, meanwhile, drop their second straight contest after a loss to the Houston Dynamo last week.
TFC will be back in action on May 30 when BMO Field plays host to the San Jose Earthquakes, while the Timbers host D.C. United on May 27 in midweek action.