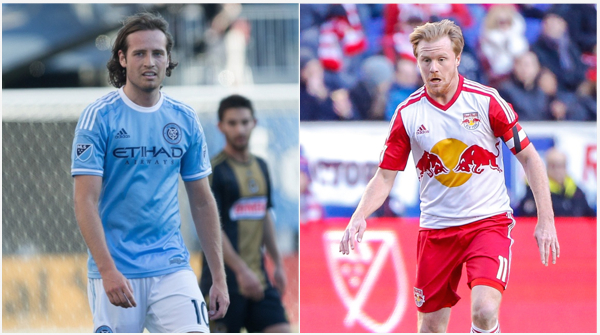 By FRANCO PANIZO
As if bragging rights were not a big enough of an incentive, both of MLS's New York teams will have plenty more to fight for when the meet for the very first time this weekend.
The New York Red Bulls and New York City FC are set for their inaugural match against one another on Sunday at Red Bull Arena, and both clubs will eagerly be gunning for three points after some less-than-stellar results in recent weeks.
The Red Bulls are on a three-game winless run that most recently saw them suffer their first defeat of the season at the hands of the New England Revolution, while NYCFC has gone seven straight games without picking up maximum points to fall to eighth place in the Eastern Conference.
While those numbers might seem to point at the expansion club as being the team with more pressure going into this game, the Red Bulls will be playing in front of their home crowd. That will certainly be a benefit, but it also puts the onus on them to pick up the victory. Anything less could trigger an angry response from a fanbase that is still being won over following some offseason controversy.
With all that, which team do you think has more pressure going into Sunday's showdown?
Vote in the poll after the jump:

[polldaddy poll=8849520]
Which team did you vote for? Do you the Red Bulls have more pressure since the match is in their place? How badly does NYCFC need a victory here?
Share your thoughts below.