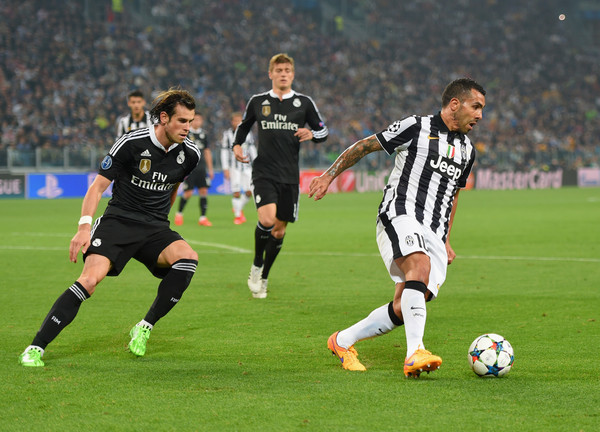 By RYAN TOLMICH
Juventus enters Wednesday's trip to Spain just 90 minutes away from a spot in the Champions League final.
The Italian club claimed a 2-1 victory over Real Madrid in the opening leg last Tuesday, setting up Wednesday's second leg at the Bernabeu. (2:45 p.m. ET, Fox Sports 1).
Led by goals from Carlos Tevez and former Real Madrid striker Alvaro Morata, Juventus secured the advantage at home, canceling out a finish from Cristiano Ronaldo. But in their return to Spain, the reigning Champions League winners could secure their advance with just a 1-0 win, due to away goals.
In order to earn a spot in the finale, Real Madrid will certainly need a better performance out of Gareth Bale, who was criticized heavily following his poor showing in the opening leg. 
Real Madrid will be hampered by the absence of Luka Modric, as the team has struggled without the Croatian midfielder pulling the strings. Los Blancos were forced to play Sergio Ramos in the midfield last time out and Modric's absence was apparent, putting too much strain on Toni Kroos to be the team's lone midfield playmaker.
In contrast, Juve's midfield will seen a boost from the return of Paul Pogba. The French midfielder returned this past weekend after missing roughly two months due to a thigh injury.
In all likelihood, Pogba will likely slot in in place of Stefano Sturaro, who started game one. A like-for-like replacement, the more talented Pogba will allow the strike partnership of Tevez and Morata to remain connected, increasing the danger that befell Real in the opening leg.
Sandwiched between the opening legs, both sides took to the field this past weekend and earned draws: Real Madrid in a 2-2 match with Valencia, while Juventus equalled Cagliari, 1-1.
Barcelona, which advanced past Bayern Munich on Tuesday, awaits Wednesday's winner in the Champions League final scheduled for June 6 in Berlin.