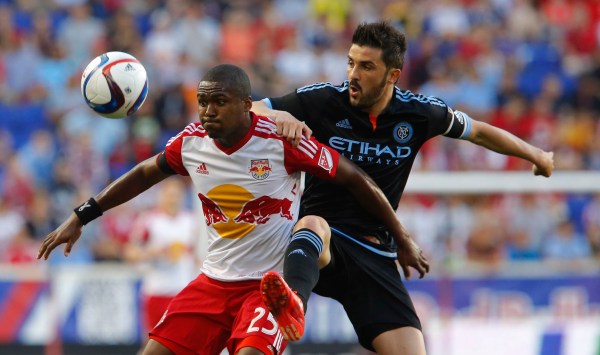 photo by Noah K. Murray/USA Today Sports
By FRANCO PANIZO
HARRISON, N.J. — The New York Red Bulls practiced playing a man down on Friday, and it sure came in handy two days later.
The Red Bulls got back to their winning ways on Sunday night by picking up a 2-1 victory over crosstown foes New York City FC. Beating NYCFC at Red Bull Arena was an accomplishment in and of itself given all the hype that went into the two New York teams' first meeting, but what made it all the more impressive was that the Red Bulls did so while playing with 10 men for nearly an hour.
Centerback Matt Miazga was shown a second yellow card in the 36th minute for a foul on Khiry Shelton, which left the Red Bulls to have to protect their 1-0 lead with a man disadvantage. Jesse Marsch's side was, however, well prepared for the occasion, especially after having run through an exercise in Friday morning's training session that emphasized how to be disciplined, organized and composed when playing with one less player.
In that drill, Marsch had an attacking unit of six or seven players go up against a three-man back line. The attackers had only a certain amount of seconds to score – think of a shot clock that Marsch counted aloud – and the defense had to try and stay compact so as to limit the quality of the chance they conceded.
"That exercise helped us to not be panicked, to stay calm at the back and just fight," centerback Damien Perrinelle told SBI. "It was a good idea to do this exercise because tonight we needed it."
Added Bradley Wright-Phillips: "Yeah, that sums up Jesse. We have done a few sessions playing against a man up so he leaves nothing to chance. Every little detail we know."
It showed on Sunday. Pushed on by the largely pro-Red Bulls crowd of 25,217, the hosts did not seem to lose much after Miazga received his marching orders. The Red Bulls did not wilt nor did they bunker or try to throw numbers behind the ball.
Instead, they stuck to the gameplan and continued to high press NYCFC in smart positions up the field. It kept causing problems for Jason Kreis' men, who looked lost and out of answers until late in the second half.
In fact, the Red Bulls found the eventual game-winner while playing down a man. On a counterattack in the 52nd minute, Lloyd Sam, Sacha Kljestan and Wright-Phillips all connected on a beautiful counterattacking sequence that ended with the Designated Player's second goal of the night.
"We have talked about if we go a man down what the tactics need to look like," said Marsch. "We still want to find moments to try and press and now compress the field and win balls and then when we do play forward and see if we can catch teams on the counter. We were able to do that effectively tonight.
"I thought we grew so much today and it was a character win and I'm proud of our team," Marsch added. "I'm proud of our team probably more now than ever."
While Marsch may have given credit for the win to the attitude and determination of his players, they cited his recent drills as being a key component in their ability to maintain their lead and come out on top against NYCFC.
Marsch has had them play down a man and some times two for occasions like Sundays, and it paid off handsomely as the Red Bulls did what they needed both tactically and mentally to close out the game with three points.
"Before we went out (for the second half), coach was saying, 'We stick to it, we keep the right attitude, and we just play for the man that's down,'" Red Bulls left back Kemar Lawrence told SBI. "We went out there and we did that. We already trained a couple days with a formation like that, so it was kind of easy to just switch up."