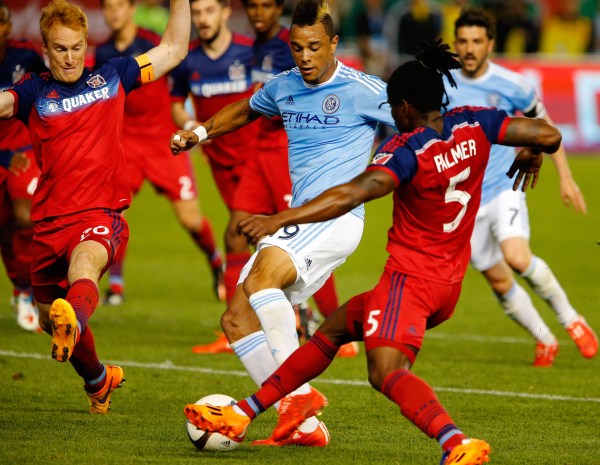 Photo by Noah K. Murray/USA TODAY Sports
By RYAN TOLMICH
NEW YORK ­– In the midst of a major losing streak and in need of a hero, it was one of New York City FC's youngest stars who sent Yankee Stadium into a much-needed frenzy.
Rookie forward Khiry Shelton scored the game-tying goal, and the first of his career, Friday night, earning NYCFC a hard-earned 2-2 draw with the Chicago Fire despite being down a man for most of the night.
Inserted into the game in the 60th minute, the 21-year-old's career-opening finish came in the 31 minutes later, getting onto the end of a David Villa pass before pushing a shot past Fire goalkeeper Sean Johnson to snag NYCFC a home point.
For both Shelton and NYCFC, the extra time goal provided something that was starting to become unfamiliar. For the club, it was the excitement of a result well-earned. For the striker, it was that little bit of extra confidence and swagger that comes with experiencing your first career finish in the most dramatic of fashions.
"I didn't know what to feel, especially being down two goals and a man," Shelton said. "I don't know what minute it was, but it definitely was amazing. I just froze for a second. I didn't know what to do, but it was just fantastic.
"It was just a striker's goal. I'm a striker, I'm an attacking player, and when you get into those situations it's just touch and finish. That's what I was thinking. I saw the ball go to David and I just thought, 'This might be my time'."
For that split-second on Friday night in the Bronx, it was Shelton's time, a situation that had been building and building in the weeks following the rookie's debut.
In the past few weeks, and perhaps most evidently in last week's meeting with the rival New York Red Bulls, Shelton had proven aggressive and active. Always dangerous, but never decisive, Shelton always seemed to push towards presenting the game's defining moment before seeing it slip from grasp.
The rookie snatched that moment Friday night, earning the praises of head coach Jason Kreis.
As a former striker himself, Kreis, who called for improvements in the forward's decision making just last week, understands exactly what it means for a young striker to finally bask in that moment of glory. The head coach now hopes that that moment isn't the last, as Kreis believes this could be a major starting point for Shelton's next evolution.
"I've been in Khiry's shoes, so I can say with a lot of clarity and a lot of belief that I think that goal could put him to the next level," Kreis said. "I think it's what he needed. He needed a goal, however it came.
"He certainly didn't create that goal, but he finished it and I'm quite certain that that's going to mean a lot for his confidence, which is what he needs right now. He's got sky high potential, but he's still a young player."
Shelton is also quick to point out the faults in his game in a way that still shows the confidence of a player just finding his stride in a new league.
The forward repeatedly preached that the hard work was yet to come, despite Friday's finish, and that it is that work that will truly be important in the days and weeks to come.
"I think it will help me down the road," Shelton said. "Maybe even in the next game, and I'll just keep improving and keep improving. Then the game after that, I'll keep improving and just take it to where (Kreis) knows it can go and where I know it can go with my game.
"I never lose my confidence. I know what type of player that I am and I know what I can do. Sometimes things may not come off the right way, but I will definitely keep working and put in my best efforts."
Those efforts yielded a special moment Friday, but don't expect Shelton to celebrate his achievements prematurely.
Perhaps pointing to just how young Shelton still remains, teammate, and roommate Mix Diskerud was quick to point out his plans to celebrate with the league's latest first-time goalscoer.
"Yeah," Diskerud said when asked if he had any special plans for Shelton's night. "I'm going to make him some hot cocoa before he goes to bed tonight, and tuck him in."