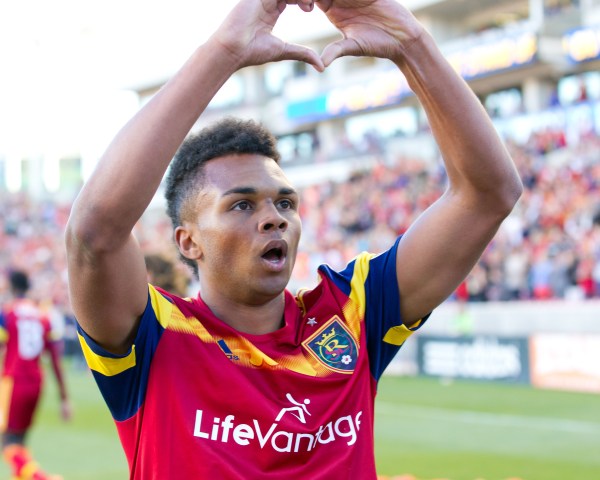 photo by Russ Isabella/USA Today Sports
By FRANCO PANIZO
Fully recovered from the knee injury that derailed his rookie season before it ever really began, Jordan Allen is back with Real Salt Lake and killing it these days. Allen is finding ways to not only make an impact on both sides of the ball, but he is also beginning to look like one of the club's more important players.
A big reason for that? A conversation with U.S. Under-20 Men's National Team head coach Tab Ramos about where he stood, and a description of himself that he didn't like hearing.
Called in last month to his first U.S. U-20s camp in more than a year, Allen had a conversation with Ramos to discuss where the 20-year-old midfielder stood in a talented pool of prospects ahead of this summer's World Cup. Ramos told Allen he had watched some of his games at RSL, and accurately labeled him one of the club's role players.
Whether Ramos was trying to light a fire under Allen or not, the youngster took the message to heart.
"He was right about that, that I was a role player with RSL, but it kind of offended me a little bit because I don't want to just be a role player," Allen told SBI. "I want to be a player that's important to the team and is making things happen. I've tried to do that a little bit more over the last few games."
Allen has not only tried, but succeeded. At a time when several U.S. U-20 players are seeing first-team minutes with their respective MLS clubs, Allen has arguably been the most impressive. The Rochester, New York, native is not only demonstrating plenty of confidence on the ball by aggressively taking on defenders and combining with teammates,  he's showing that he is also willing to put in the work defensively.
Lately, Allen has found himself in the starting lineup. He started both of Real Salt Lake's matches in Week 10 and delivered two assists this past weekend to help the club snap a five-match winless skid with a 2-1 road triumph over the Chicago Fire. The pair of impressive performances re-emphasized why RSL has been high on him for so many years, and why it felt he was worth signing to a professional contract before the 2014 season.
"He's a student of the game," RSL head coach Jeff Cassar told SBI. "When he's not playing it, he's watching it. He watches a lot of video on Thierry Henry, so he's a soccer junkie and he's absorbing all the information we're giving him. He's going up on the stat sheet but even more importantly he's being very good defensively for us as well."
Allen has done such a solid job in his league appearances (four starts in nine matches) this season that he not only earned a call-up to the U.S. U-20s' camp last month in Austria, but impressed enough there to make it onto the roster for the upcoming World Cup in New Zealand.
The speedy 5-foot-11 Allen learned of his inclusion last Monday. After waiting for much of the day to see if he would receive the email confirming his selection, Allen received a phone call from RSL technical director Craig Waibel confirming the news. Afterwards, Allen received the email.
Still, Allen was in pure disbelief. Not even a call from Ramos an hour later could make things feel any more real. He had reached the finish line of the trying road he had gone through to return to full health from the devastating knee injury that cut his 2014 season short and put at risk his chances of playing in the World Cup.
"Yeah, I had a ton of doubt," said Allen. "When I first found out about the injury I almost tried to just play through it for a year just because I knew how difficult it was going to be to make this (U-20) squad.
"Once you give up your spot, there's so many players that are healthy and that are doing well that you never know if you're going to get another opportunity. I just made sure that when I did get that opportunity, to go into Austria, that I made the most of it and gave Tab something really hard tot think about."
For Allen, making this U.S. U-20s World Cup team was always a goal. It was admittedly one of the key reasons why he left the University of Virginia after one season in 2013. He wanted to put himself in the best environment possible to make the U.S. roster, and believed signing with RSL gave him that opportunity.
That desire to be in New Zealand competing on the world stage was also why Allen watched every minute of the Americans' qualifying campaign back in January. He wanted to be supportive of his teammates, and also thought it might come in handy to be familiar with how the team played in case he got another look again late in the cycle.
That chance did come, but only after scoring his first professional goal, a dramatic game-winner, in late March. Seconds after Toronto FC had netted what looked to be a sure 88th-minute equalizer, Allen nodded home a cross to give Real Salt Lake the 2-1 victory at Rio Tinto Stadium.
"It meant a lot," said Allen. "Last year was probably the hardest year I've ever had soccer-wise and mentally. It took a toll on me, and I put a lot of work in – probably more work than I've ever put in – in the last 10 or so months. It was just kind of like the weight of the world was off my shoulders once I got that first goal.
"I think that's what started pushing me to get into the form that I'm into right now."
Allen will play one last game with RSL, away against the Montreal Impact this Saturday, before heading down under for a World Cup loaded with expectations for the U.S. The Americans landed a favorable draw for the group stage, and anything less than a knockout round appearance will be deemed a failure.
Allen is well aware of that pressure, but is more excited than anything else about the chance to fulfill a long-standing dream. Barring any unforeseen circumstances, he will be at the World Cup this summer, putting an exclamation point on his road to recovery.