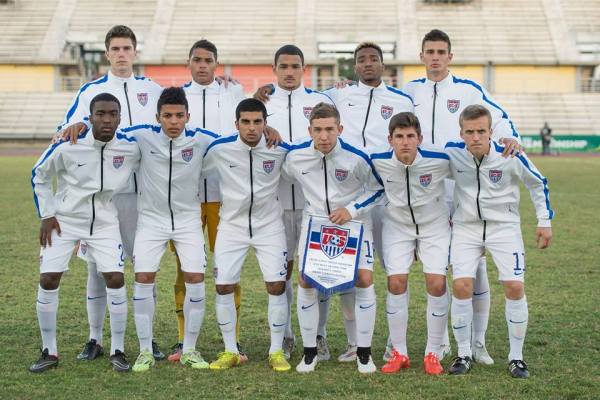 By FRANCO PANIZO
The final camp before Under-20 World Cup roster selections are due is in the books. Now, players just have to wait and hope they've made enough of an impression.
U.S. Under-20 Men's National Team head coach Tab Ramos got one last up-close-and-personal look at a pool of his players this month with a camp in Austria that saw the Americans tie Qatar and beat Croatia. Ramos had a lot, but not all, of his first-choice players at his disposal, which allowed him to simultaneously fine-tune things and assess those youngsters still fighting desperately to grab one of the remaining World Cup spots.
Competition is heavy throughout the entire squad, but the midfield and defense are areas where Ramos will really have to make some tough decisions. Versatility could be key in helping land one of those final places on the squad, as well as getting first-team minutes, which several of Ramos' MLS-based players are encouragingly getting right now at their clubs.
Ramos still has until next month to mull things over, but the date to submit rosters is fast approaching. With that, here is SBI's latest projection of the 21 players that could make it to the World Cup in New Zealand:
Projected U.S. U-20 World Cup Roster (April 2015 Edition)
GOALKEEPERS
Zack Steffen, Ethan Horvath, Jonathan Klinsmann
Outlook- The goalkeeper situation changes slightly once again. Jeff Caldwell was called in by Ramos this month, but U.S. Under-18 goalkeeper Jonathan Klinsmann trained with the U.S. Under-23s during their brief camp in California. That could be a sign that the U.S. coaches are preparing Klinsmann for potential inclusion in New Zealand while also keeping Caldwell involved with the U-20s in case either Zack Steffen or Ethan Horvath suffer an injury between now and the World Cup.
Missed the Cut– Jeff Caldwell, Thomas Olsen, Santiago Antunes, Evan Louro
———-
DEFENDERS
Shaquell Moore, Cameron Carter-Vickers, Matt Miazga, John Requejo, Erik Palmer-Brown, Desevio Payne
Outlook- There's only one tweak to this bunch, and it's the omission of Conor Donovan. The Orlando City centerback scored his first U.S. goal of the year with a clutch equalizer against Qatar, but the amount of attacking talent and versatility of some of the other defensive options might leave him on the outside looking in.
Desevio Payne of FC Groningen provides cover at centerback as well as both outside back spots – Ramos told SBI in March that Payne's best position is right back – and FC Dallas midfielder Kellyn Acosta is also capable of filling in on the outside. Their ability to play in multiples spots leaves Donovan to have to battle it out for a place on the squad with Sporting Kansas City's Erik Palmer-Brown, who is younger and has the added bonus of being eligible for the next U-20 World Cup.
Missed the Cut– Conor Donovan, Tyler Turner, Michael Amick, Luis Martir, Tommy Redding, Chase Gasper, Chris Odoi-Atsem
———-
MIDFIELDERS
Kellyn Acosta, Junior Flores, Emerson Hyndman, Russell Canouse, Paul Arriola, Romain Gall, Marco Delgado, Jordan Allen
Outlook– Donovan falling out of the 21-man roster is more due to the plethora of midfield options that Ramos has available than anything else. Real Salt Lake's Jordan Allen is healthy and playing again, so he moves into the picture as someone who can come off of the bench and provide a spark. Marco Delgado of Toronto FC could also be selected after getting a long look – 135 minutes over the two matches – in this camp, which would force a role player like Sunderland youngster Lynden Gooch to just miss out.
There could be other changes as well, given the immense competition for spots. Zach Pfeffer and Cristian Roldan are getting minutes these days with the Philadelphia Union and Seattle Sounders, respectively, and foreign-based Joel Sonora and Ethan Sonis also continued to make their cases this month.
That said, Ramos will likely want to keep as many of the midfielders that took part in World Cup qualifying as possible due to the experience gained in that competition.
There's also still no update on Arsenal prospect Gedion Zelalem's eligibility, so he remains on the outside for now despite being a near-lock for inclusion if FIFA allows him to play for the U.S.
Missed the Cut– Lynden Gooch, Joel Sonora, Ethan Sonis, Zach Pfeffer, Cristian Roldan, Fernando Arce Jr., Luis Felipe, Corey Baird, Gedion Zelalem
———-
FORWARDS
Rubio Rubin, Bradford Jamieson, Maki Tall, Tommy Thompson
Outlook- The only different thing about this group is that Tommy Thompson is now included whereas last month he was with the midfielders. That change is simply due to where Ramos listed him positionally on this month's roster release.
Rubio Rubin and Bradford Jamieson were locks even before they began seeing first-team minutes this month, which leaves Maki Tall's spot as the lone one in this forward stable that could still be up for grabs.
Missed the Cut– Dembakwi Yomba, Ben Spencer, Amando Moreno, Andrija Novakovich, Alex Muyl
What do you think of this group of 21 players? Could you see Donovan and Gooch missing out in favor of Allen and Delgado? Which third goalkeeper and fourth forward would you take?
Share your thoughts below.