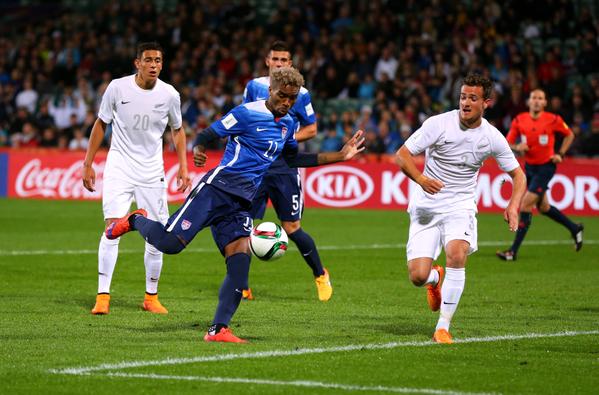 By FRANCO PANIZO
If there is one thing the U.S. Under-20 Men's National Team took away from its win over New Zealand on Tuesday, it is a boost in confidence.
The U.S locked up an early place in the World Cup's Round of 16 by mauling New Zealand, 4-0, in their second Group A match. The attack-minded Americans took an early lead in the game and never looked back, rattling off a whopping 30 shots by sending waves of pressure at an overmatched Kiwis' back line.
While much of the spotlight was on the U.S.'s five attacking players – four of which scored after FIFA ruled on Thursday that Bradford Jamieson netted the first goal – the defense also played well. It took the Kiwis until late to seriously test U.S. goalkeeper Zack Steffen, but still the Americans held firm en route to recording their first U-20 World Cup cleansheet since 2005.
It all made for a solid bounce-back performance following the subpar showing in the group opener – a 2-1 win over Myanmar – and had the U.S. feel plenty good about itself.
"It gives us obviously a lot of confidence because we needed a game like this," said U.S. head coach Tab Ramos. "We played, as I said before in Spanish, happy soccer."
Indeed, it looked as if all the U.S. players were enjoying themselves at QBE Stadium from the onset. The Americans came out with an aggressive mindset, with defenders even jumping into the attack, and it paved the way for Jamieson's sixth-minute winner.
Even after Emerson Hyndman netted an insurance goal after the half-hour mark, Ramos' side refused to take its foot off the pedal. The U.S. continued to push hard for more goals, arguably to its own detriment at times, but found them in the second half while also posting its first World Cup shutout in 14 games.
"I think it raises our confidence, attacking and defensive-wise," said Steffen. "I thought we moved the ball well. Every player on the field did their job and did it very well. We played how we wanted to play against them. We scouted them and our coaches did a good job of giving us a good picture of how they were going to come out, and I think we took that to mind and we used their weaknesses against them.
"I think it was a very good game for us confidence-wise."
One player who appeared plenty confident, especially as the match wore on, was midfielder Gedion Zelalem. Given his first U.S. start, Zelalem dazzled with an array of flicks and tricks, including a fancy nutmeg near the end line and a neat assist on Paul Arriola's goal that made it 3-0 in the Americans' favor.
"I think Gedion did a great job," said Ramos. "He's born in (1997), he's a younger player and we're not afraid to put him in because he wants the ball. I tell the players on the team that I always want to have guys on the field who want the ball, and I think he showed himself well.
"As you can see he plays very comfortably in that position. He was not afraid and I think at times he put the team on his shoulders and he played like an older player. I'm excited about his future with us, but it's one game. We'll take it one game at a time with him."
For Zelalem and the rest of the U.S., the focus is now on taking on Ukraine in a battle for the top spot in Group A on Friday (3 am ET, Fox Sports 1). The Americans are expecting their biggest test to date there, but believe the momentum gained from the win over New Zealand can help will them to victory before the knockout rounds begin.
"It's really important. Each game we're taking it like a final," said Arriola. "The first one we took care of with a win against Myanmar, and this was the second final that we needed to win, and now all of our attention goes to Ukraine.
"Even though we're through, it's important for us to get another win just to be secure and keep our confidence going."