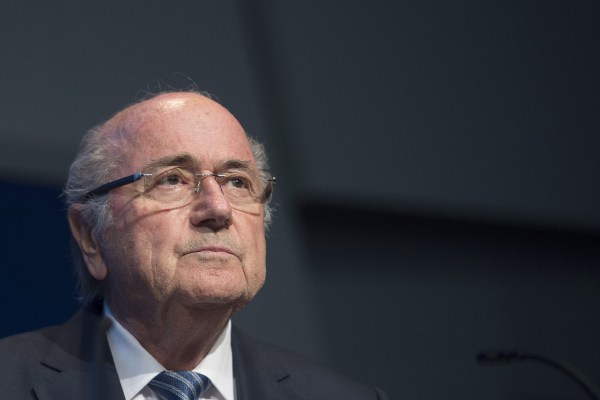 Photo by Valeriano di Domenico/AFP/Getty Images
By AARON CRANFORD
Sepp Blatter stepped away from the sport he has headed for a little more than four terms Tuesday, leaving some across the soccer community to jest and exclaim while others praised Blatter for his awareness of the situation at hand.
Blatter had just been re-elected for a fifth consecutive term as president of FIFA, but with allegations pinning secretary general Jerome Valcke, Blatter's righthand man, in the corruption scandal, and the investigation even now reaching Blatter himself, the pressure to maintain the status quo was too much.
Blatter announced his resignation, and the world reacted. Some members of the soccer community lauded Blatter's decision to step down. United States Soccer president Sunil Gulati said the decision made by Blatter is a respectable one because the now former president finally came to realize that the game is more important than any single person, including Blatter, himself.
"The announcement today by President Blatter represents an exceptional and immediate opportunity for positive change within FIFA," Gulati said in a press release after Blatter's press conference. "I commend him for making a decision that puts FIFA and the sport we love above all other interests.
"This is the first of many steps towards real and meaningful reform within FIFA. Today is an occasion for optimism and belief for everyone who shares a passion for our game."
CONCACAF responded to the resignation as well, focusing on the future and rehabilitation of FIFA and the sport as a whole.
"We are at an important moment for the game, a moment that we must not squander," CONCACAF president Alfredo Hawit said in a press release. "CONCACAF stands ready to assist in the process of rebuilding FIFA in a way that strengthens the game for many years to come."
Two of FIFA's biggest sponsors, Coca-Cola and Budweiser, also had some things to say about the situation. Like CONCACAF, Coca-Cola focused on the good Blatter's decision will do for the future of the sport, while Budweiser hopes the 'beautiful game' can be the sole focus of FIFA once again.
"We respect Mr. Blatter's decision," Coca-Cola said in a statement Tuesday. "The announcement today is a positive step for the good of sport, football and its fans. Our expectation remains that FIFA will continue to act with urgency to take concrete actions to fully address all of the issues that have been raised and win back the trust of all who love the sport of football. We believe this decision will help FIFA transform itself rapidly into a much-needed 21st century structure and institution."
"We expect today's announcement to accelerate FIFA's efforts to resolve internal issues, install positive change and adhere to the highest ethical standards and transparency," Budweiser said in their statement about Blatter stepping down. "We look forward to the beauty of the game taking center-stage again for football fans around the globe."
Meanwhile, current UEFA president Michel Platini also came out in support of Blatter's move away from the game, saying to BBC Sport: "It was a difficult decision, a brave decision, and the right decision."
Elsewhere, the Netherlands organizing soccer body also welcomed the decision of Blatter stepping down.
"Given the campaign conducted by Michael van Praag and the KNVB, it will be clear that the Netherlands Football Association welcomes Sepp Blatter's resignation as president of FIFA," Netherlands governing body of soccer KNVB said in response to Blatter's resignation.
"The fact that he has chosen to step down only days after his reelection is striking but no cause for speculation as far as the KNVB is concerned. Everyone who has seen the images and followed the news knows that Mr Blatter's reelection failed to bring the peace he wanted."
What is your response to Blatter's resigning? Who will succeed Blatter as head of FIFA?
Share your thoughts below.