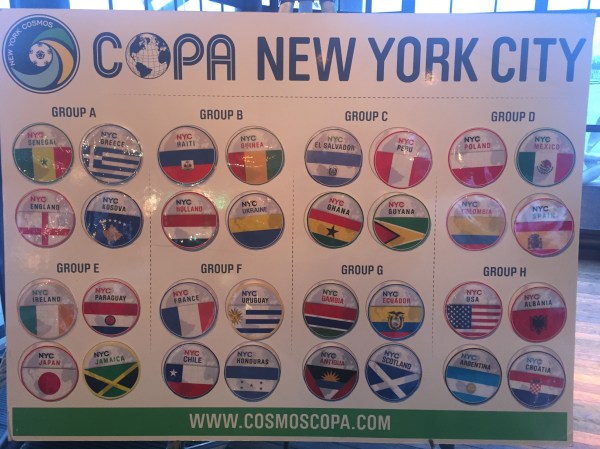 By RYAN TOLMICH
Stationed in one of the world's most diverse cities, the New York Cosmos are set to hold the latest iteration of the club's New York City-based international competition.
The Cosmos revealed the groups for the 32-team Cosmos Copa, an international tournament that allows local players to represent their respective countries in a New York-based tournament. Featuring primarily amateurs, and run by Street Soccer USA, the tournament is set to kick off with the group stage's on July 4.
"This is really a formal tournament for what really is grassroots in New York," said former Cosmos goalkeeper and current club ambassador Shep Messing in a press release. "These are our people, this is our city. I'm very happy the Cosmos are involved.
"We're obviously the greatest melting pot in the world," Messing added. "As big as the Cosmos are, these are our people, this is our city."
"I believe it's a great experience against high-level competition. You get to play against the best players in New York," NYC Paraguay president Dario Cabanas said. "That's a great experience for any player."
The Cosmos Copa kicks off on July 4 at Randall's Island. The upcoming tournament will be the seventh annual tournament, with the 2014 edition won by NYC Gambia.
Here is a closer look at the group's for the Cosmos Copa below:
COSMOS COPA
GROUP STAGE
Group A: NYC Senegal, NYC Greece, NYC England, NYC Kosova
Group B: NYC Haiti, NYC Guinea, NYC Holland, NYC Ukraine
Group C: NYC El Salvador, NYC Peru, NYC Ghana, NYC Guyana
Group D: NYC Poland, NYC Mexico, NYC Colombia, NYC Spain
Group E: NYC Ireland, NYC Paraguay, NYC Japan, NYC Jamaica
Group F: NYC France, NYC Uruguay, NYC Chile, NYC Honduras
Group G: NYC Gambia, NYC Ecuador, NYC Antigua, NYC Scotland
Group H: NYC USA, NYC Albania, NYC Argentina, NYC Croatia
——–
What do you think of the field for the Cosmos Copa? What do you expect from the tournament?
Share your thoughts below.