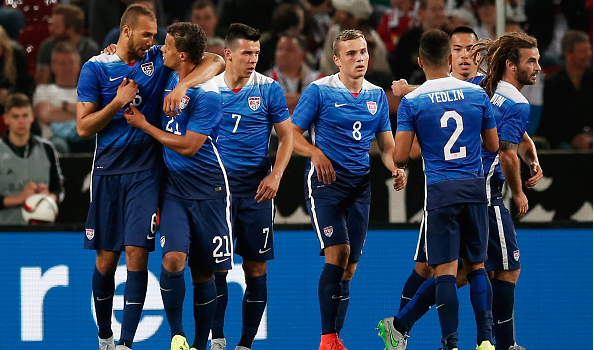 By FRANCO PANIZO
For the U.S. Men's National Team, the time to tinker, experiment, and prepare is over.
Results are all that matter now.
The U.S. is two weeks away from opening its CONCACAF Gold Cup title defense, and head coach Jurgen Klinsmann will unveil his 23-man roster for the regional tournament on Tuesday. Klinsmann has to select from a 35-player preliminary squad that he named earlier this month, but has promised that the final product will be the best available team.
Narrowing down the roster surely has not been easy exercise for Klinsmann, especially after seeing a shorthanded side go into the Netherlands and Germany and pick up friendly victories at the start of June. But what has surely helped him in finalizing his selections is knowing that he has the luxury of making six possible changes to the team after the group stage.
Even so, Klinsmann will have to leave off some good talent as he rounds out a squad that he wants to see lock down a berth to the 2017 Confederations Cup by winning this summer's Gold Cup.
Here are the 23 players we see Klinsmann settling on (as well as the potential six reserves he might call upon after the group games):
Projected USMNT Gold Cup Roster (June 2015 Edition)
(*- Potential knock-out phase additions)
GOALKEEPERS
Brad Guzan, Nick Rimando, William Yarbrough
Outlook- No changes here from the last roster projection. Klinsmann has already named Brad Guzan the No. 1 choice for the tournament, and Nick Rimando is all but guaranteed to be the veteran backup. The third spot is more up for grabs, but Klinsmann may want to continue to integrate William Yarbrough into the program and potentially cap-tie the Mexican-American netminder in the final group match if qualification is already secured.
Klinsmann, however, is big on having his players with their clubs for the beginning of their preseasons, meaning Bill Hamid could replace Yarbrough on the roster (while actually staying with D.C. United unless needed) throughout the knockout rounds.
Missed the Cut– *Bill Hamid
——————
DEFENDERS
Omar Gonzalez, Ventura Alvarado, John Brooks, Michael Orozco, Fabian Johnson, Greg Garza, Timmy Chandler, DeAndre Yedlin, Brek Shea
Outlook- There are plenty of options across the back line, but many questions remain at centerback. No one has run away and made the position their own in recent outings, which should allow for Omar Gonzalez to return to the fold given his experience and form.
John Brooks, Ventura Alvarado and Michael Orozco have received the majority of the most recent looks in central defense, and will likely be summoned by Klinsmann again for the early parts of the Gold Cup. Like Yarbrough, Alvarado and Orozco could be sent back to their Liga MX clubs after three games so as to allow them a better opportunity to earn starting spots. If that scenario plays out, expect Matt Besler and Brad Evans to be summoned for the do-or-die matches.
The fullback spots seem locked up by Fabian Johnson, Timmy Chandler, Greg Garza, and Brek Shea, but the surprise inclusion of DaMarcus Beasley in the preliminary squad makes for an interesting wrinkle. Beasley's experience and skill could still be of use for the U.S., though they likely will not be needed until after the group games.
If that's the case, Klinsmann could have the luxury of bringing in Garza for the opening phase of the competition before allowing him to head to his new Liga MX side.
DeAndre Yedlin is listed as a fullback here, but will likely continue to serve as an attacking supersub.
Missed the Cut– *Matt Besler, *DaMarcus Beasley, *Brad Evans, Tim Ream
——————–
MIDFIELDERS
Michael Bradley, Alejandro Bedoya, Mix Diskerud, Kyle Beckerman, Gyasi Zardes, Alfredo Morales, Joe Corona
Outlook– The midfield seems pretty straight forward. The veteran trio of Michael Bradley, Alejandro Bedoya, and Kyle Beckerman will lead the way while promising youngsters like Gyasi Zardes and Alfredo Morales provide depth behind them. Mix Diskerud's form still is not what it was at the start of the season, but he's been a staple of Klinsmann's roster selections since last fall and should again have a place in the team.
The one potential surprise could be Joe Corona, who was brought in for the April friendly against Mexico. Corona is another Liga MX player that has switched clubs this summer, and as such could be someone that is swapped out for a veteran like Graham Zusi after the group stage so as to better adjust to his surroundings.
Morales could also leave camp early if Klinsmann prefers to see the midfielder return to Ingolstadt and prepare for its jump to the Bundesliga. In that scenario, a like-for-like change could come with the addition of Perry Kitchen.
Missed the Cut– Perry Kitchen*, Graham Zusi*, Lee Nguyen, Brad Davis
——————
FORWARDS
Clint Dempsey, Jozy Altidore, Aron Johannsson, Jordan Morris
Outlook- With Clint Dempsey done serving his suspension by the time the tournament starts, Klinsmann can call in the best group of forwards possible. Dempsey should be paired with Jozy Altidore, and Aron Johannsson should be in the mix as well given the way he closed out the Eredivisie campaign.
Jordan Morris may have been on the bubble as recently as a month or two ago, but his recent impressive performances off the bench make him the ideal speedy substitute that can run at defenders and give Klinsmann a late offensive spark.
If Klinsmann is inclined to make one change after the group stage, it could be to bring in Juan Agudelo for Johannsson. That move would allow Johannsson to get more of a preseason under his belt with AZ Alkmaar while keeping an experienced option on the U.S. bench.
Missed the Cut– *Juan Agudelo, Chris Wondolowski, Alan Gordon
—–
What would you think of this 23-man USMNT roster? Which six players could you see being replaced and which reserves would take their spots? Is there enough quality on this side to win the Gold Cup?
Share your thoughts below.