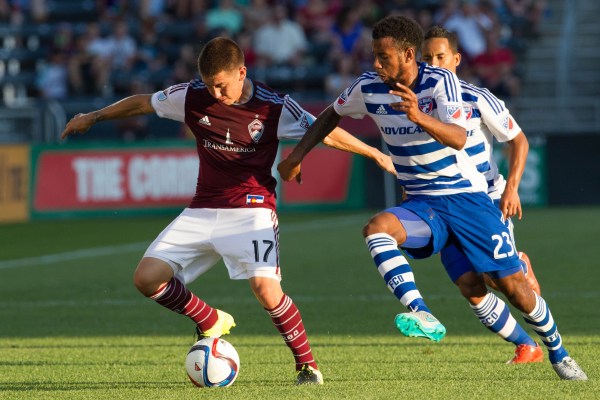 By COLE KELLOGG
FC Dallas continues to struggle in MLS, as it drew with the Colorado Rapids when the Western Conference opponents faced off in Commerce City on Friday night.
A 71st-minute Fabian Castillo goal helped the Texas team take the lead against the last place team in the league, but a Dillon Serna strike in the 88th minute helped the Rapids earn a 1-1 tie at Dicks Sporting Goods Park on Friday night.
The first goal of the match came in the 71st minute off of a beautifully struck shot from Castillo. The Dallas star was at the left-hand corner of the box when he fired home a shot that went off of Irwin's fingertips and into the upper part of the net.
Castillo went on another magnificent run down the length of the pitch six minutes later, but was fairly challenged in the box and lost out to the Rapids defense.
Serna tied things up for the home team just two minutes from the final whistle when he struck a fantastic left-footed half volley off a Drew Moor cross.
Fabian Castillo almost found his way to an all-important go-ahead goal just minutes later, but his shot slammed off of the inside of the post and Clint Irwin captured and held the ball.
Colorado will travel to the Citrus Bowl to play Orlando City on Wednesday, while FC Dallas will play Houston in a battle of Texas sides on Friday night.