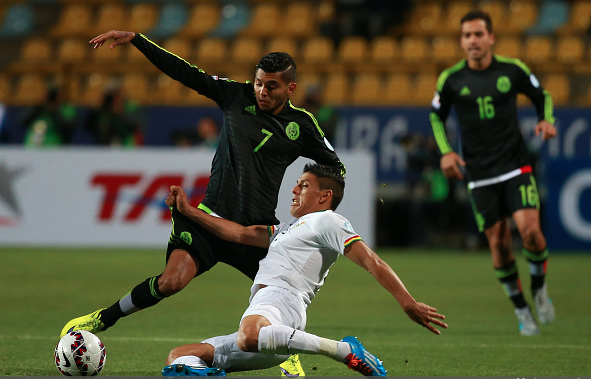 By FRANCO PANIZO
Mexico might not have its best players available, but the CONCACAF power surely did not expect its Copa America campaign to start like this.
Mexico was held to a scoreless draw by Bolivia in their 2015 Copa America opener at Estadio Sausalito on Friday night. El Tri struggled to create chances throughout the match and it was Bolivia, which has not won a game in the competition since 1997, that had the better of the scoring opportunities.
Making matters worse for Mexico head coach Miguel Herrera was the loss of veteran centerback Rafa Marquez, who exited the match in the 64th minute with an injury.
The Mexicans are now in a tie with Bolivia for second place in Group A. Chile sits in first place while Ecuador is in last following the tournament hosts' 2-0 win on Thursday.
Here are more news and notes from around the world of soccer:
TEVEZ LAUGHS OFF MESSI RIVALRY TALK
Carlos Tevez and Leo Messi may have recently been foes in the UEFA Champions League final, but that is the extent of any rivalry between the two.
On the eve of Argentina's Copa America opener, Tevez has again come out and shot down ongoing rumors about a falling out between he and Messi. The two attackers are both on Argentina's roster for the competition, and Tevez is insisting that they get along just fine despite chatter that he was left off the national team in the previous cycle because of a feud with Messi.
"(A story saying) 'Tevez friend of Messi' doesn't sell. 'Messi an enemy of Tevez,' yes," Tevez told Clarin. "That is what (the media members do) — they speak more of a non-friendship than the actual friendship the two of us have, no?"
"With Messi we laughed at everything that was said. We know that with a look or hug we have already said thousands of things to each other. It's not necessary to say anything."
Argentina opens its Copa America campaign on Saturday against Paraguay.
PORTO PRESIDENT SAYS MARTINEZ WILL JOIN MILAN
If FC Porto president Jorge Nuno Pinto da Costa is to be believed, Jackson Martinez is on his way out at the club.
Da Costa said Friday that AC Milan will pay a transfer fee of $39.4 million to Porto for Martinez. Da Costa also said that Martinez has agreed to play for the Italian heavyweight, who earlier this week sent its general manager to Portugal to try and work out a deal for the 28-year-old Colombian forward.
Martinez is coming off a 2014-15 campaign that saw him score 21 goals in 30 league matches. It was his third straight season with at least 20 goals.
WILSHERE KEEN TO STAY AT ARSENAL
Jack Wilshere may be linked with a move to Manchester City these days, but the midfielder has no intentions to leave Arsenal.
Wilshere has expressed his desire to stay with the Gunners despite ongoing rumors of a potential switch to Manchester City. The 23-year-old midfielder has reportedly been identified as a potential signing for Man City, which needs to meet a homegrown quota of English players after seeing Frank Lampard and James Milner leave.
Wilshere, an England international, played in 14 games for Arsenal this season. He scored two goals.
—–
What do you think about Mexico getting off to a slow start at the Copa America? How do you see Messi and Tevez performing for Argentina this summer? Expecting Martinez to thrive at AC Milan if he does make the move?
Share your thoughts below.