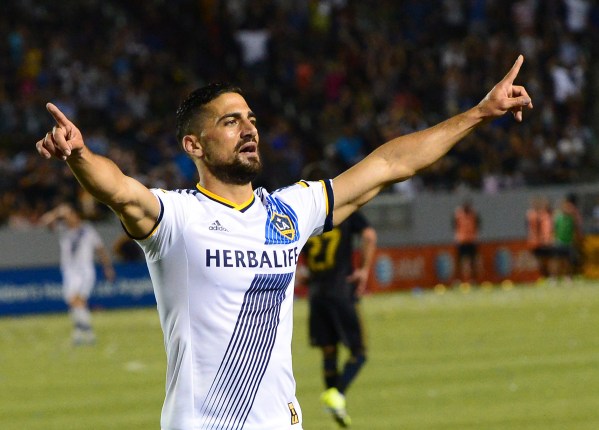 Photo by Jayne Kamin-Oncea/USA TODAY Sports
By DUNCAN BOCHICCHIO
It's been a turbulent season for the Los Angeles Galaxy, but a mid-May addition has breathed new life into and has scored key goals for a Galaxy side looking to repeat as MLS champions in 2015.
The defending MLS Cup winners started the season with a comfortable win against Chicago, but never really reached top form following some ugly draws and a series of losses, none worse than the 4-0 thrashing away to Orlando City.
After losing Landon Donovan and Marcelo Sarvas in the offseason, the Galaxy seemed to be waiting for Steven Gerrard to come save the day. But it was a different midfield signing that has completely turned the ship around.
Sebastian Lletget has appeared six times for LA since his move back Stateside from West Ham — he's now scored four goals in his last four appearances and has been the man behind the best form of the Galaxy's season: 6-1 in the Open Cup, 5-1 over Philadelphia and now 5-0 over a strong Portland side has many LA Galaxy fans wondering if the team that won MLS Cup last season is finally beginning to show what it's made of.
"Fitness-wise, maybe in the beginning I was struggling," Lletget said, "but as soon as I got that, I think mentally, my style of play just suited the team."
What suits this team seems to be goals, and the Galaxy are scoring plenty thanks to Lletget.
A crafty midfielder with lightning quick feet, Lletget has already built a great relationship with Robbie Keane, the man that all the offense goes through.
"He's a great player, and he makes my life easier," said Lletget. "His communication with me is outstanding." But the LA Galaxy Captain was quick to make sure Lletget stays grounded; "He's got some quality, he's very good on the ball, but sometimes he has to learn to get rid of the ball a little quicker, which I already spoke to him about," Keane said.
Lletget, a Northern California native, found his way to LA by way of London, England. In 2010, he signed for the Premier League side West Ham, playing in the youth and reserve ranks but never broke into the first team — he played in a few preseason games, and his only appearance was as a substitute in a blowout loss in the FA Cup in 2014. After a few tough years trying to break into the first team there, he decided to come home.
Still, at just 22 years of age, attacking midfielder Lletget is only at the beginning of what should be a very exciting MLS career.
He's all but certainly locked down a starting spot in Bruce Arena's diamond midfield, but Lletget is trying to stay focused to help get LA back to championship ways.
"I'm just doing my job," he said. "I forget about the past and just look for the next game. I'm just trying to keep it going."
As Lletget continues to get more comfortable with the team, fans and teammates have begun to see some of the flair he can bring as well. Robbie Keane smiled as he mentioned the clever little flick Lletget used to beat Diego Chara near the sideline in the first half of last night's game against Portland.
"He's young, he's learning, he's been great and he's scored a few goals," the LA captain said. That praise is about as high as you'll ever hear from the Galaxy captain.
LA face their bitter rivals San Jose in the California Clasico this weekend, and it's a bit of a homecoming for Lletget who's from San Francisco.
"It's a special one for me," Lletget remarked. "I have about 50 tickets for friends and family — it's ridiculous. My three sisters, parents, 20 friends…honestly."
The only question now is: with Steven Gerrard due to feature soon, where does that leave Lletget? If he continues to play at this level, Lletget is putting pressure on guys like Baggio Husidic and Stefan Ishizaki.
But if he keeps scoring goals and playing like he has been so far, don't be surprised to see him alongside the legendary Gerrard in a few weeks' time.