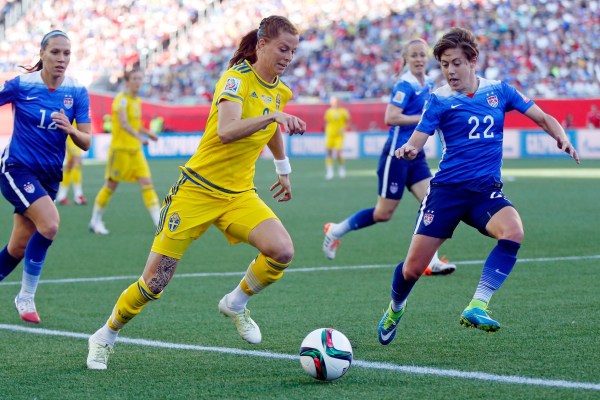 Photo by Michael Chow/USA Today Sports
By RYAN TOLMICH
While much of the pregame focus was turned toward former coach Pia Sundhage's comments on Abby Wambach, Carli Lloyd and Hope Solo, it was a much less heralded member of the U.S. Women's National Team that earned her side a point.
USWNT defender Meghan Klingenberg provided a late goal-line clearance, as the USWNT settled for a point in a scoreless draw against Sundhage's Sweden in the team's second group stage game.
Despite seeing the U.S. earn it's fair share of looks in the second half, Sweden provided the best opportunity and was only stopped by a timely clearance from Klingenberg in the 77th minute.
Positioned on the backpost, the USWNT defender cleared away a shot destined for goal with a header off the crossbar, keeping the scoreline level and earning the USWNT a well-deserved draw.
The clearance was one of several outstanding plays by the U.S. defense, with Julie Johnston and Becky Sauerbrunn helping shut down Sweden's attack.
The performance of the U.S. attack wasn't quite up to the same level, with chances few and far between for the Americans.
The USWNT's best chances came following the introduction of Abby Wambach in the 67th minute, lending further credence to Sunhage's super-sub comments earlier in the week.
Just five minutes after her introduction, Wambach provided the U.S. with the team's best look of the afternoon, powering a header that forced a save from Sweden goalkeeper Hedvig Lindahl. Just moments later, Carli Lloyd got a similar chance, heading wide from close ranger on a well-placed Megan Rapinoe corner.
Much like the team's opening contest against Australia, the U.S. Women's National Team struggled in the opening moments, as Sweden earned a series of corners that would prove to be less than fruitful. As the game wore on, however, the U.S. eased into the game, ending the first half with a flurry of set pieces that failed to yield much of a chance.
While the midfield and attack sputtered, the USWNT defense proved to be the star of the show, leaving goalkeeper Hope Solo relatively untested aside from a backpost cross that was cleared away by Ali Krieger early in the first half.
Throughout the contest, the U.S. was continuously anchored by the duo of Becky Sauerbrunn and Julie Johnston, both of whom were a frequent thorn in Sweden's attacking play. Johnston in particular proved to be the rock of the U.S. time and time again, leading the way as the U.S. limited the Sweden attack to even less than they could put together on the evening.
With the draw, the USWNT remains atop Group D with four points, while Sweden sits third with two. The U.S. rounds out group play against Friday losers Nigeria on June 16, while Sweden looks to keep tournament hopes alive in a matchup with Australia that same day.