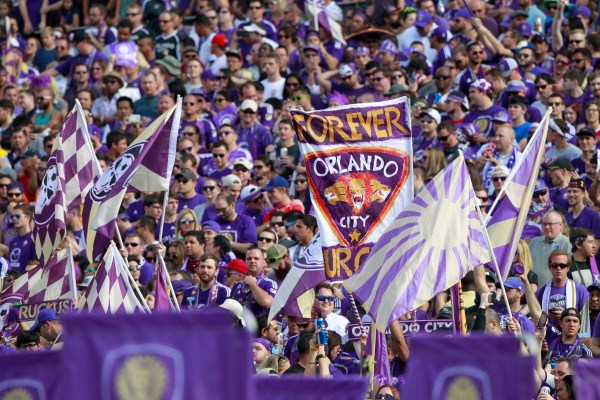 By DEVIN ELLIS
At the end of the 2015 season, Orlando City SC and USL side Louisville City FC will no longer be affiliates, as the MLS franchise has made plans to own a USL team in central Florida.
Orlando's plan to start a sister USL club closer to home is still pending approval from both USL and MLS for the 2016 season, per a club announcment. The club also named former player and current staff coach Anthony Pulis as the head coach to-be of the new team.
This new club, if approved, will be the only USL club in the state of Florida, after VSI Tampa Bay FC folded following the 2013 season.
Orlando City is looking to use the new sister club as a channel to give experience to homegrown and academy players in their youth system, and while the affiliate tie will be broken with Louisville City, the two will still have a "formal partnership."
Here are some other news and notes in MLS this Tuesday:
SAN JOSE TO MOVE VENUES FOR THEIR UPCOMING ICC MATCH AGAINST MANCHESTER UNITED
The San Jose Earthquakes have announced today that they will be moving their International Champion's Cup match against Manchester United on July 21 to their home venue, Avaya Stadium.
The match was originally set to be played at the California Memorial Stadium in Berkeley but has since has been relocated to the Quake's home city.
Avaya Stadium, which holds 18,000, is significantly smaller than Cal Memorial Stadium, which holds up to 63,000. San Jose said on their website that anyone who has already purchased a ticket for the game will be refunded and given a "special presale opportunity" to buy tickets for the game at Avaya.
The San Jose Earthquakes, one of three MLS clubs competing in the cup, will host one other match at their home stadium against Mexican side Club América on July 14, a match which has already sold out.
The Quakes, along with the New York Red Bulls and the LA Galaxy, will face off against a handful of top clubs from Europe in the tournament's North American leg, when the tournament starts on July 11.
COLUMBUS CREW MIDFIELDER WIL TRAPP IS SET TO RETURN TO THE SQUAD AFTER THREE MONTHS OUT
Columbus Crew midfielder Wil Trapp looks ready to return to the squad after a concussion he suffered during training kept him out of the side for over three months.
Trapp, who has proven himself in his first couple seasons to be an important cog in head coach Gregg Berhalter's machine, has returned to training and is rumored to possibly return for the Crew's Open Cup clash with Orlando City SC.
Trapp made 31 appearances for the Crew last season and was named U.S. Soccer Young Male Athlete of the Year the previous season, which was his first for Columbus.
The Crew and U.S. midfielder's status is still unsure, as Berhalter has said Trapp could return sometime in the next couple weeks. Trapp has only featured once since the injury, missing 14 of his team's games thus far. Trapps' sole game in 2015 came on April 8 in Vancouver, and he had to be substituted at half time due to complications of the injury.
The concussion occurred during Crew training on March 17, after a collision with a fellow Columbus player left him battered.
It's been a tough season for Columbus so far. They sit fourth-to-last place in the Eastern Conference, and have averaged 1.47 goals per game. The Crew will be anticipating their young midfielder's return eagerly and hoping to see him back in the starting lineup as soon as possible.
ST. LOUIS FC GOALKEEPER ALEX RIGGS LOANED TO SPORTING KANSAS CITY
St. Louis FC goalkeeper Alex Riggs has been loaned to Sporting Kansas City for the remainder of the 2015 season.
Riggs has been added to the SKC roster ahead of their July 1 Open Cup match against FC Dallas.
The 27 year-old goalkeeper stands tall at 6 feet and 4 inches and started his career with Columbus Crew. Riggs was on the bench just two weeks ago when St. Louis and Sporting KC played each other in the U.S. Open Cup.
Sporting Kansas City's upcoming match against Dallas will kick off at 7:30 ET, and will be streamed online on U.S. Soccer's website.
——————
What do you think of Orlando City creating a USL team? Think San Jose's choice to move venues was the best?
Share your thoughts below.