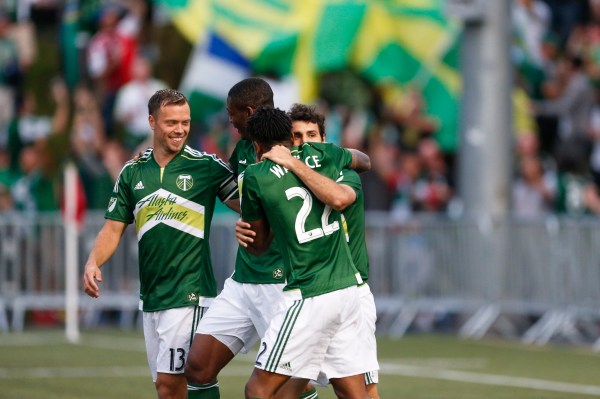 Photo by Jennifer Nicholson/USA Today Sports Images
By JASON MITCHELL
TUKWILA, Wash. — They needed extra time and what ended up being a four-man advantage, but the Portland Timbers knocked the defending champion Seattle Sounders out of the U.S. Open Cup in front of 4,022 at Starfire Stadium on Tuesday night.
The Sounders won the tournament four times in the last six years, but exit the 2015 edition in the fourth round.
Rodney Wallace scored the game-winning goal against a nine-man Sounders team in the 100th minute, stepping into a deflected shot and beating a helpless Troy Perkins from the edge of the 6-yard box for the 2-1 lead.
Maximiliano Urruti added an insurance goal against seven men in the 116th minute, driving a low near-post shot past Perkins for the 3-1 lead.
Sounders captain Brad Evans was ejected in the 69th minute after picking up his second yellow card. Obafemi Martins was carted off the field — and eventually out of the stadium — in the 86th minute, moments after Sounders head coach Sigi Schmid used his final substitution. The star forward appeared to injure himself during an awkward fall.
The injury dropped the Sounders to nine men, but referee Daniel Radford was not done for the night.
In the 112th minute, Radford issued a straight red card to Michael Azira for elbowing, and promptly carded late substitute Clint Dempsey for protesting the call. Replays appeared to show Dempsey tossing the referee's card to the FieldTurf before picking it up and tearing it in half.
A contingent of police or security guards escorted the referee crew from the field after the match.
With the win, the Timbers became the lone visitor to leave Starfire with a victory since the Sounders joined MLS. Seattle entered the night with 18-0-1 record in Open Cup home games since joining the league.
Diego Valeri opened the scoring in the 48th minute, getting a foot to a Rodney Wallace cross barely a yard in front of goal for the 1-0 lead. The Sounders believed Valeri was offside on the goal, their first in a series of disagreements with Radford.
Martins equalized in the 80th minute for what was, at the time, a 10-man team with the unlikeliest of goals, essentially walking into a Lamar Neagle corner kick at the far post and deflecting the ball past goalkeeper Adam Kwarasey.
Kwarasey preserved his team's lead with a series of stellar saves early in the second half, first denying a Martins rocket from distance before stoning Lamar Neagle's attempt off the rebound. Kwarasey delivered again moments later, denying 20-year-old Aaron Kovar at the doorstep.
While both sides fielded relatively strong lineups, neither team managed to put a shot on target in a physical, unattractive first half.
The draw for fifth-round matchups will be held Thursday morning.