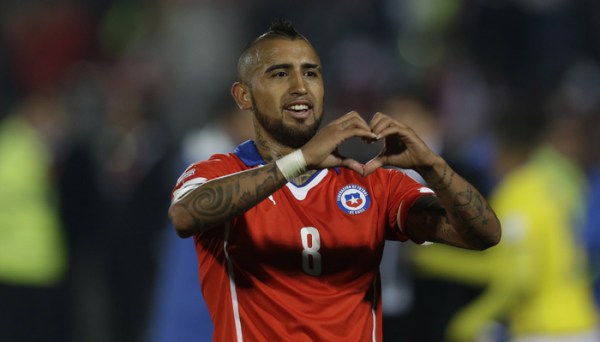 By RYAN TOLMICH
Chile's Copa America chances may have taken a major hit due to off-the-field actions by one of the nation's biggest stars.
Arturo Vidal will go to court Wednesday on allegations of drunk driving after the Chile midfielder crashed his Ferrari in Santiago on Tuesday night. Vidal, who suffered minor injuries in the incident, is being held by police until his court appearance Wednesday.
"The driver of the red car was under the influence of alcohol," police Colonel Ricardo Gonzalez said. "He is being detained and will be moved on Wednesday to the courtroom."
Vidal has scored three goals in two Copa America games for host Chile.
Here are some more news and notes to kick off your Wednesday morning:
AGUERO LEADS ARGENTINA PAST URUGUAY, PARAGUAY TOPS JAMAICA IN COPA AMERICA
Sergio Aguero and Argentina just wouldn't be denied.
The forward provided the game's lone goal as Argentina topped Uruguay, 1-0, in Copa America action on Tuesday night. Aguero's finish came in the 51st minute, as the Manchester City forward scored on a diving header via an assist from club and international teammate Pablo Zabaleta.
However, Aguero's goal did prove costly, as the forward will undergo tests on a shoulder injury suffered in the victory.
Meanwhile, Paraguay also needed just one goal to top Jamaica and received it thanks to a goalkeeper blunder.
While attempting to clear his lines, Jamaica goalkeeper Duwayne Kerr headed a clearance off of Paraguay's Edgar Benitez and could only watch as the ball rolled into the net for the game's decisive goal.
With the victories, both Argentina and Paraguay sit on four points through two games and are assured at least third place, although advancement isn't yet certain.
PREMIER LEAGUE RELEASES 2015-16 SCHEDULE
The schedule for the 2015-16 Premier League is now set in stone, as the league announced the fixture list for the upcoming season on Wednesday.
The Premier League will kickoff on August 8 and will have its opening weekend highlighted by a matchup between Manchester United and Tottenham. Meanwhile, reigning champions Chelsea will host Swansea, while Arsenal take on London rivals West Ham United at the Emirates.
Liverpool has the toughest opening of all, however, as the Reds face Arsenal and Manchester United away from home in the opening five games.
QUICK KICKS
Brazil will meet Serbia in the finals of the Under-20 World Cup. (REPORT)
Aston Villa has reportedly signed defender Micah Richards on a four-year contract. (REPORT)
Queens Park Rangers have been banned from signing foreign players after an administrative blunder could see Sandro's contract voided due to a lack of work permit. (REPORT)
Hoffenheim has signed Czech Republic defender Pavel Kaderabek in a transfer from Sparta Prague. (REPORT)
—
What do you expect to happen in Vidal's case? What do you expect from Argentina and Paraguay in the Copa America? Which Premier League games are you most excited for?
Share your thoughts below.