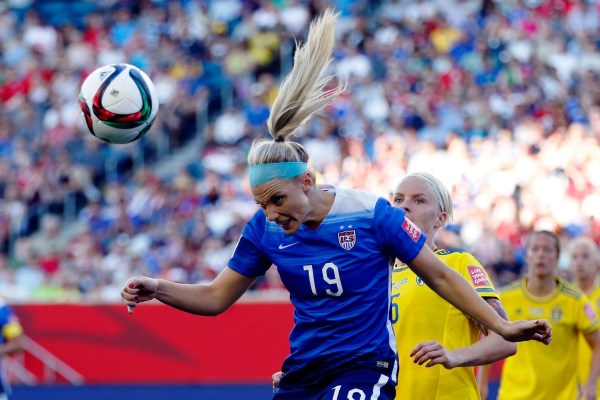 photo by Michael Chow/USA Today Sports
By FRANCO PANIZO
If the U.S. Women's National Team had gotten more standout performances like the one Julie Johnston delivered, the Americans might have been able to pick up three more points.
The U.S. settled for a scoreless draw in their second Group D game vs. Sweden on Friday, but the result was through no fault of Johnston. In fact, the 23-year-old centerback was a major reason why the Americans were able to keep Sweden off the scoreboard, dominating in central defense on her way to earning SBI's Woman of the Match honors.
Johnston played lights-out defense over the course of the 90 minutes at Winnipeg Stadium, heading balls away, slide tackling Swedish attackers, and finding other ways to come up with timely interventions. She turned in a monstrous defensive performance to help the U.S. record its first shoutout of the World Cup, and was one of few Americans to look up to the task on the day.
Honorable mention for the award goes to Johnston's back line comrades. Becky Sauerbrunn also turned in a solid shift, and so too did fullbacks Ali Krieger and Meghan Klingenberg, who made the play of the match with a vital goal-line clearance
What did you think of Johnston's performance? Agree that she was the best U.S. player on the field? Was one of Sauerbrunn, Klingenberg, or Krieger more deserving?
Share your thoughts below.