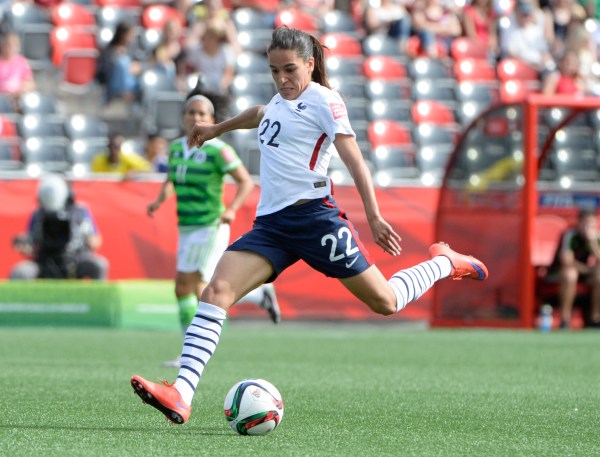 photo by Eric Bolte/USA Today Sports
By FRANCO PANIZO
In need of a bounce-back performance after suffering a shock defeat, France took out all its World Cup frustrations on Mexico.
France wasted no time in overcoming its weekend loss to Colombia, scoring three goals in the first 13 minutes en route to a dominant 5-0 victory on Wednesday. Marie-Laure Delie scored the winner 34 seconds in and an own goal from Jennifer Ruiz gave the French some insurance in the ninth minute.
Eugenie Le Sommer bagged a brace with tallies in the 13th and 36th minutes, and Amandine Henry capped the scoring 10 minutes before the final whistle.
The victory gave France six points and the top spot in Group F ahead of England due to a better goal differential.
Here is a closer look at Wednesday's results and a rundown of the upcoming Round of 16 matches:
ENGLAND TOP COLOMBIA WITH PAIR OF FIRST-HALF GOALS
For the third straight World Cup, England is on to the knockout rounds.
England defeated Colombia, 2-1, to take second place in Group F. The English went up 2-0 via a Karen Carney strike in the 15th minute and Fara Williams penalty kick in the 38th, but Colombia ensured a nervy finish following a 94th-minute finish from Lady Andrade.
Adding insult to injury for the Colombians was the yellow card starting goalkeeper Sandra Sepulveda received in the 85th minute. The caution was her second of the tournament and rules her out for Colombia's Round of 16 match against the United States.
BRAZIL ELIMINATES COSTA RICA WITH NARROW VICTORY
Costa Rica put in a valiant effort, but it was ultimately not enough to reach the next round.
Brazil eliminated Costa Rica and stayed perfect in the World Cup after picking up a 1-0 victory. The Brazilians fielded a less-than-full-strength team due to their guaranteed first-place finish in Group E, but still managed to create a number of shots before Raquel Fernandes slotted home the winer in the 83rd minute.
Costa Rica goalkeeper Dinnia Diaz made a number of saves prior to that to keep the game level, but was unable to keep out Brazil's late finish and will now head home with the rest of her teammates.
The Brazilians finished atop Group E with a 3-0 record that saw them score four goals while conceding none. Costa Rica, meanwhile, finished in third, but was not one of the four best third-placed teams in the tournament.
SECOND-HALF GOALS SEE SOUTH KOREA RALLY TO WIN OVER SPAIN
South Korea put forth a lackluster first half that threatened its World Cup participation, but the response after halftime ensured that the Asian side would live to fight another day.
South Korea scored two second-half goals to come from behind and defeat Spain, 2-1, in their Group E finale. The Spaniards took the lead in the 29th minute through a Veronica Boquete goal, but Cho So-hyun put the Koreans back on even terms with a header in the 53rd minute.
Kim Soo-yun then found the winner in the 78th, but Spain nearly found an equalizer that would have sent it through to the next round. Sonia Bermudez took a free kick in stoppage time that was painfully denied by the crossbar, leaving Spain to crash out of the tournament in the group stage.
The result gave South Korea second place in the group with four points. Spain finished last with just one point.
ROUND OF 16 MATCHES
Germany vs. Sweden
China vs. Cameroon
Brazil vs. Australia
France vs. South Korea
Canada vs. Switzerland
Norway vs. England
United States vs. Colombia
Japan vs. Netherlands
—–
What do you think of Wednesday's results? Impressed with France's rout of Mexico or understrength Brazil's triumph over Costa Rica? Which nations do you see making it out of the Round of 16?
Share your thoughts below.