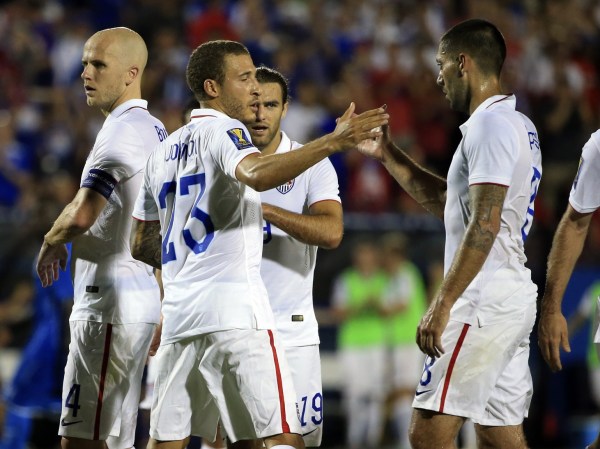 photo by Kevin Jairaj/USA Today Sports
By FRANCO PANIZO
FOXBORO, Mass. — Style points may mean little to nothing in a tournament like the CONCACAF Gold Cup, but the U.S. Men's National Team is craving drastic improvements as it attempts to secure early passage into the knockout rounds on Friday.
That progress will likely have to come from a reserve-filled lineup, though.
The U.S. continues its Gold Cup title defense on Friday night, hosting Haiti in a Group A match at Gillette Stadium. Winning is top priority for the Americans given that three more points will assure them a spot in the quarterfinals, but they also want to be more convincing than they were in Tuesday's narrow, if not generous, 2-1 win over Honduras.
Still, the showdown with the Haitians will mark the third of what the U.S. is expecting to be seven games in just over three weeks. With games coming at such a rapid rate, a rotation of players seems probable vs. Haiti due to the room for error that the tournament's forgiving group stage allows, the need to keep legs fresh, and the ongoing battle for starting spots.
"A tournament you only win with an entire group and No. 23 is as important as No. 1," said U.S. head coach Jurgen Klinsmann. "Anything can happen, but also there's a tricky situation, especially now in the Gold Cup, where you play every three days in the group games, which is a very short turnaround for every team.
"We think through that and we also still see a lot of competition going on in our own team, quite a lot of 50-50 situations on the table. You can discuss, as every soccer fan can discuss, that you want to see that guy or that guy play, and we have those discussions as well as coaches. We want to see them perform in training. We want to see them put a stamp on their own personal situation, especially when they get to play."
On paper, Haiti seems like a pushover and the type of opponent that you can afford to rest some players against. History, however, might paint a different picture.
Haiti is one of two CONCACAF nations – Mexico being the other – that holds a winning record over the Americans. The Haitians are 6-5-5 all-time against the U.S., and were on the brink of coming out victorious again in the two teams' most recent meeting in the 2009 Gold Cup before Stuart Holden scored a thunderous 92nd-minute goal to force a 2-2 draw.
Even so, Haiti has not beaten the U.S. since 1973, and the disparity in talent between the two countries is as clear to see as Gyasi Zardes' blonde mohawk.
The Americans are not taking anything for granted, however. They know their recent performance in the victory vs. Honduras was subpar, and that combined with Haiti's showing in the surprise 1-1 draw with Panama earlier this week could be a recipe for disaster if the U.S. does not show up fully focused.
"Haiti is always unpredictable," said U.S. forward Jozy Altidore, who is of Haitian descent. "I've been watching them since I was young, with the games I went to until now. You never know what you're going to get. A lot of that's a good thing because sometimes they have players that can make something out of nothing that you've never seen before, so that's something that you have to be aware of."
What is also a bit unpredictable right now is what Klinsmann will do with his team. While changes seem to be in the offing, just how many he plans on making to his lineup is unknown. Seasoned veterans like Clint Dempsey and Kyle Beckerman stand a good chance of being rested, but the importance of the game could mean they earn the nod again while rotational players are swapped out.
One area where tweaks do not appear as likely is at centerback. Klinsmann has often paired budding prospects Ventura Alvarado and John Brooks together in the heart of the defense in recent months, and not even their shakiness against the Honduras seems enough to warrant a shakeup at the position.
"They're young, and the only way to grow is playing," said Klinsmann. "The way you get more experience is being on the field to get more experience."
There will be attention paid to how the U.S. back line performs, but more of the spotlight will be placed on the attack. The Americans were far from at their best in terms of chance creation and keeping possession vs. Honduras, and they want to show that they are making strides in those departments as the Gold Cup gains momentum.
"We want to be on the ball the most," said midfielder Mix Diskerud. "It's not always going to be easy, but in a lot of these games, that's what we're hoping for. (Against Haiti), we want to create chances and have possession. We want to be that team."
The Haitians' physicality and athleticism could pose problems in that regard, but the more talented and experienced U.S. should still find a way, any way, to deliver the goods.
Yes, playing prettier and more effective soccer would be a welcome development for Klinsmann and his players. But, ultimately, it is finding a way to pick up another win and moving onto the next round that only matters.
"There's absolutely no way we're going to underestimate Haiti, not for one second," said Klinsmann. "We're going to take the same approach that we took Honduras and how Honduras played us. They were very, very aggressive, sometimes on the edge and sometimes over the edge. We are prepared for all 90 minutes."