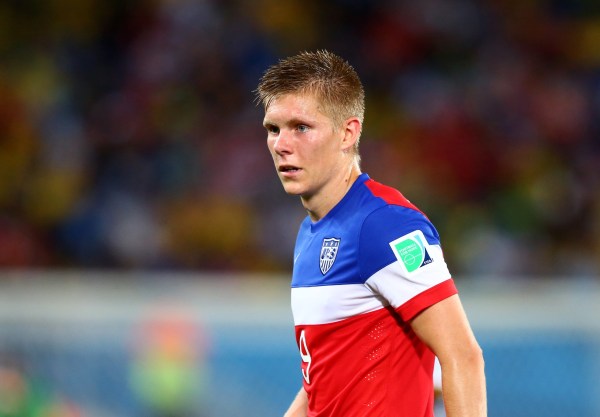 Photo by Mark J. Rebilas/ USA Today Sports
By RYAN TOLMICH
FOXBORO, Mass. – Aron Johannsson wonders what might have been had things bounced his way at last summer's World Cup, and now the U.S. Men's National Team forward wants no such regrets heading into his second major tournament.
Johannsson is entering the Gold Cup after being left frustrated by a World Cup campaign cut short by injury. Struggling with ankle troubles, Johannsson was limited to just one World Cup appearance off the bench in 2014, fulfilling a dream but leaving the forward wanting much, much more.
This summer, Johannsson has no such injuries and the forward is entering the Gold Cup with much more confidence than during the World Cup. Now healthy, Johannsson hopes to make his mark on this summer's big tournament, starting with a potential appearance in Friday night's match with Haiti.
"It was very nice to be a part of a team that plays at the World Cup, but it was kind of frustrating when you look back and you think about what could have been," Johannsson said on Thursday. "When you look back, it's disappointing how it played out, being injured, and not being able to perform at my best level. Now I'm fit and now it's a new tournament, so I hope I can show some good things on the pitch.
"It kind of speaks for itself: it's better to be healthy than to be injured. I had a couple of weeks off before this tournament and I'm getting started now, two weeks ago, and every day is getting better and better and hopefully I get the chance to show it on the pitch some time."
If the 24-year-old forward is to make an appearance, he will have to beat out fellow reserve Chris Wondolowski and two USMNT regulars in Clint Dempsey and Jozy Altidore, both of whom made their impact in Tuesday's opener.
Bagging a brace, Dempsey earned himself Man of the Match honors, while Altidore played a crucial role in the team's first goal of the night.
Having seen those contributions, Johannsson is well aware that unseating the duo in front of him will be anything but easy. But the forward no other option than to try and battle his way into the team through hard work and steady improvement.
"Obviously those are two of the best strikers to play for the U.S.," Johannsson said. "Between them, they have like 200 games or something and then like 150 to 200 goals, so obviously it's difficult to break into the team. I'm here to try my best to break into the team and make them fight for their spot as well.
Added Altidore: "He improves every day. From when he first joined AZ (Alkmaar) to when you look at the last games we played in those friendlies, I think he played really well. He's a guy that can connect the game. He can do a little bit of everything. He's got great feet. He's a good passer of the ball, and he can create chances for the team. He's a great player to have."
Johannsson is hoping to parlay his improvements into a Gold Cup chance, one that could see him go out and snatch even more playing time going forward.
For Johannsson, the Gold Cup may not have been a tournament in the forefront during his childhood, but he understands exactly how important these next few games could be for him as his international career pushes on.
"I wouldn't say I know everything about it, but I know quite a lot," Johannson said of the tournament. "So far it's been fun. We played one game and got three points and we'll look to add on that tomorrow."