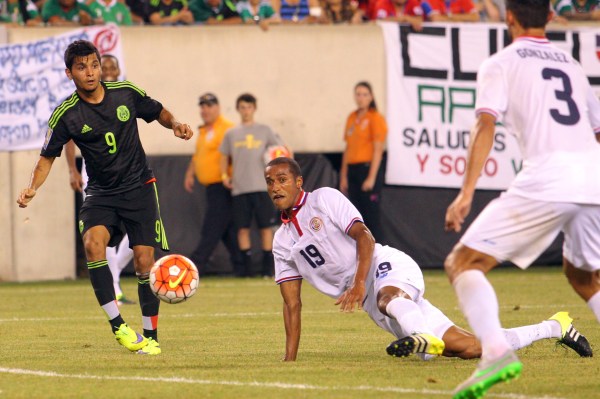 photo by Brad Penner/USA Today Sports
By FRANCO PANIZO
EAST RUTHERFORD, N.J. — Calm and collected when he could have been fuming and emotional, Roy Miller was emphatic in saying that there was no foul on the decisive play that led to Costa Rica's CONCACAF Gold Cup demise.
He also suggested that referees have a Mexico bias.
Costa Rica was eliminated from the Gold Cup in the most controversial of fashions on Sunday night. The Ticos suffered a 1-0, extra-time loss to Mexico in the quarterfinals via a 122nd-minute penalty kick that was awarded for a foul on Oribe Peralta – a foul that appeared to be a dive more than anything else.
With a penalty-kick shootout just seconds away, Miller was deemed to have brought down Peralta on a cross whipped into the 18-yard box. While at first glance it looked like Miller desperately shoved Peralta given the way the Mexican attacker fell to the ground, replays showed that was not the case. There was minimal contact from Miller, but nonetheless Mexico was given a chance to win the game and Andres Guardado took full advantage by slotting home the penalty kick.
For Miller, there was no doubt that Peralta "exaggerated" and flopped on the play. Even so, the 30-year-old defender was not surprised to see El Tri win the call, which was made by Guatemalan head official Walter Lopez after conferring with American assistant referee Eric Boria.
"It's Mexico, the referees always here and there," said Miller before pausing and changing his thought. "What I ask is if this would have happened against Costa Rica, would the linesman make the call? Or on the play by (Joel) Campbell in the first half? Or the play by Elias (Aguilar) that the same Peralta came in and lunged at his ankles with both legs and gets a yellow card?
"These are things where we say, 'Hey, we already know all about this.' But we're going to moving forward, we need to note the strong performance from all our players, and keep our heads up because I thought the team played well."
What bothered Miller and his teammates even more was that Lopez initially signaled for a goal kick on the play after the ball bounced out of bounds. Lopez, however, appeared to change his mind when he saw Boria waving his flag on the near sideline.
Miller did not refute making contact with the airborne Peralta on the play, but also did not understand how Lopez could overturn the call. Miller said he thought Lopez was closer to the play than Boria, and was so initially dumbfounded by the decision to award a penalty kick that he went over to Boria to ask who had committed the infraction.
"In the penalty area there's always going to be contact, it's natural, but there was never any push on my end. I didn't stick my foot on him," said Miller. "He took a dramatic fall, and the referee signaled for a goal kick. We all saw it. Not even Mexico was complaining.
"But the referee looks at the linesman and the linesman calls a penalty kick. We were left to ask, 'What's going on here?' These things happen, but it's an injustice what they did to us in the last minute."
Miller repeatedly pointed to the replay, saying that anyone who was unsure whether he committed a foul could look there for a clear answer. He also questioned how Peralta remained on the field that late in the game given that the veteran striker had committed a two-legged slide tackle on Aguilar near midfield 10 minutes prior.
In any case, Miller is simply taking this Gold Cup elimination on the chin. He wishes things would not have ended in the manner that they did, but is not going to dwell on the outcome.
Not when Costa Rica held Mexico scoreless for 121 minutes, and not when penalty kicks – uncontroversial ones – were looming.
"I'm calm because, for me, I know it wasn't a penalty kick," said Miller. "Obviously, I'm hurt because of what happened in the last minute when the game was almost over, but we're going to keep moving forward. Things don't end here."