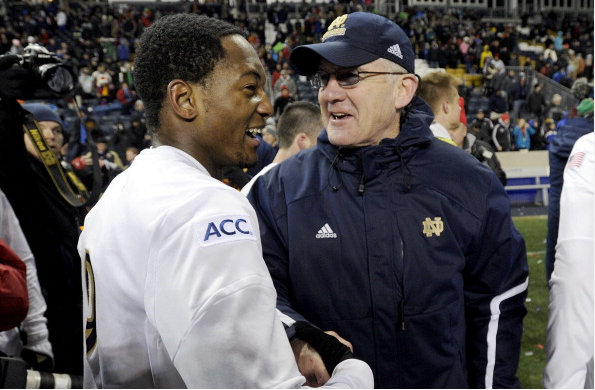 By DAN KARELL
The University of Notre Dame Fighting Irish found out last year one of college soccer's unwritten truths.
These days, it's nearly impossible to repeat as a champion.
After winning its first national title in program history in 2013 over the Maryland Terrapins, the Fighting Irish's hopes at a repeat championship were dashed by the eventual winners, the Virginia Cavaliers, as the No. 1 seeded Irish fell, 1-0 at home. Virginia soon became the tenth different winner in the last ten years, which is the longest stretch in NCAA Tournament history.
Six starters from last year's squad are gone, and only four starters remain from the title-winning team that included the likes of Harry Shipp, Luke Mishu, Patrick Wall, Nick Besler, and Grant Van de Casteele.
With plenty of players trying to fit into new spots, Fighting Irish head coach Bobby Clark understands that it will take time for the team's new starters to gel together.
"I think it's still a work in progress," Clark told SBI in a phone interview ahead of their season opener on Friday against Maryland. "We lost some important players last year but you do that every year. That's really one of the fun things about college soccer, because of people graduating you keep changing so things have got to come together."
If the Fighting Irish are to win its second national championship, it will key around a trio of seniors.
Headlining the group is Patrick Hodan, one of the top seniors in the country, the defending ACC Offensive Player of the Year, and a creative midfielder who will cut in from the right with his left foot and has the ability to pick out a pass from midfield as well as score goals himself. He comes into the season with 26 goals scored and 16 assists in 65 career games.
Fellow midfielders Evan Panken and Connor Klekota provide both experience in a crucial part of the field, as well as in Panken's case, an ability to attack and Klekota's case, an ability to snuff out opposition attacks.
But there are also going to be key contributions from some of the younger players. Brandon Aubrey, a 6-foot 3-inch junior defender, and Matt Hobrowski, a 6-foot 2-inch defender both start in central defense for the second consecutive year, sophomore forwards Joe Gallagher and Jeffrey Farina look to build on positive freshman seasons, and the one of either junior Oliver Harris or sophomore Blake Townes, both Michigan natives, will slot in at central midfield alongside Klekota.
Both have done well and seen a lot of time in the preseason games," Clark said. "We'll possibly use all three of these midfielders over the course of the season. Both are very capable players."
Another big hole to fill for the Fighting Irish will be in goal. With Patrick Wall graduating, senior Brian Talcott and junior Chris Hubbard are fighting for the No. 1 spot, and the duo split time in the preseason, even with Talcott suffering a concussion. Clark said he has since recovered fully.
Clark also said he and his coaching staff have identified some talented freshman who could break through and contribute right away.
Midfielders Thomas Ueland, Sean Dedrick, and forward Ian Aschieris have stood out to Clark and his staff during what Clark calls, "mini-games" that are played prior to the schedule game later in the evening.
"At Ohio State and Butler we played a mini-game prior to the main game," Clark said. "We got a good look at all these boys. We'll see where they go but they've certainly looked good so far. There's a couple who could contribute similarly to what Gallagher and Farina did last year."
Another fellow freshman, Scotland native Sean MacLeod, is the grandson of the late Ally MacLeod, who played in Scotland and England during a 16-year career, as well as managing Scotland to the 1978 World Cup. One member of that World Cup team was none other than Sean MacLeod's current coach, Bobby Clark.
As usual, Notre Dame has scheduled a number of heavy hitters in their non-conference schedule to prepare them for the gauntlet that is the NCAA Tournament.
The Fighting Irish open up their season facing Maryland and in-state rival Indiana at the Adidas/IU Credit Union Classic, and later in the season face Big Ten powers such as Michigan State, Michigan, and Northwester, and strong Big East sides such as Marquette and Xavier.
Add that to a grueling ACC schedule, facing defending national champions Virginia and Duke at home while taking trips to North Carolina and Wake Forest, and the Irish will be battle-hardened by the time November rolls around.
"I've always done that. I've always looked for the best games," Clark said. "Indiana always did that with (former coach) Jerry Yeagley. Indiana was a good team to imitate, a little bit. It's hard to get through these games, but there's no easy games in men's soccer. If you play, what some people term is a mid-major, these are tough games. There's no easy game. I think you're better to test yourself."
Clark said that with a schedule full of talented opponents, it won't be hard for him to motivate his team to get up for every game.
"I don't think it can get any better than what it's gonna be," Klekota said. "It's great that our team gets a challenge right away and I think it's going to be the best thing for all teams that are involved, because we'll get to see what it's like to play the best teams early."